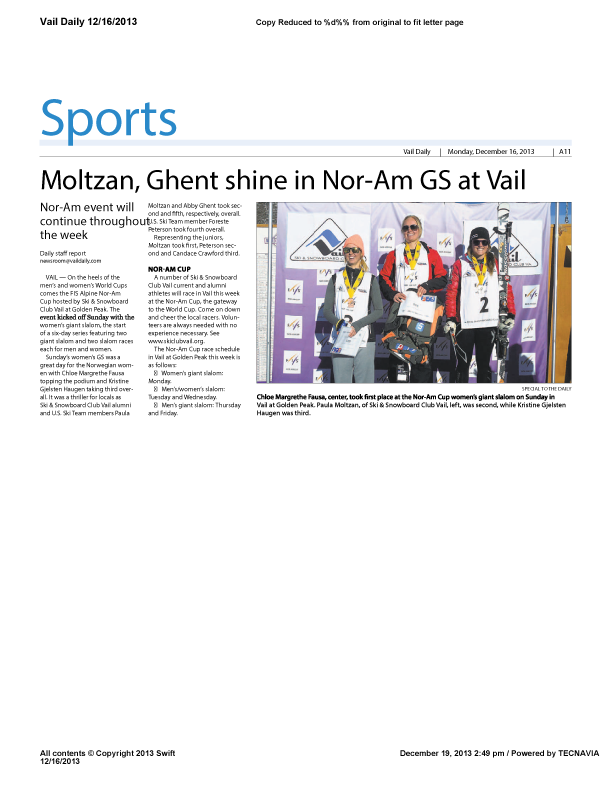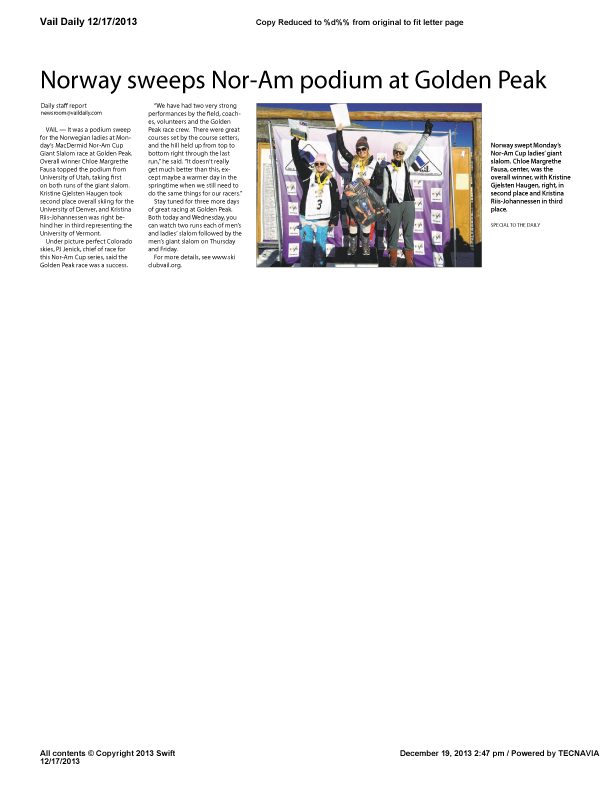 Press Release-December 18, 2013
Another All-American Day at the MacDermid NorAm Cup
WOW!  That's all we can say when it comes to the US Men's and Ladies' performances on Wednesday at the second of the Men's and Ladies' Slalom events at the MacDermid NorAm Cup on Golden Peak.  Ski & Snowboard Club Vail alumna and US Ski Team member Paula Moltzan excited the crowd with a remarkable first place overall finish for today's slalom.   Paula held on, fighting her way down the course, in what was a test of "sticking to it" to make the win– an unbelievable athletic feat.  Hailey Duke, a senior from the US western region, came in second, with Lila Lapanja of the US Ski Team in third.
On the Men's side of Wednesday's Slalom it too was an all-American day with the three overall podium spots taken by US Ski Team members.   Will Brandenburg topped the podium, with Vail Ski & Snowboard Club alumnus Will Gregorak finishing second and Nolan Kasper in third.
It was another proud moment for Ski & Snowboard Club Vail when alumna Paula Moltzan  took first for the Juniors and second overall in the MacDermid Cup Ladies series.    Chloe Fausa of Norway finished first overall in this Ladies' series with Kristina Riss-Johannessen finishing third overall for this series.
The MacDermid NorAm Cup is one of many competitions hosted by Ski & Snowboard Club Vail, bringing hundreds and hundreds of athletes, family and friends to the Valley from around the world.  Karen Ghent, Alpine Program Director, shared "The NorAm Cup is such a great example of how Ski & Snowboard Club Vail coaches, staff, family and friends come together with Vail Resorts' competition crews to create a great event for young athletes.  We could not do what we do without all of these helping hands."  Karen continued, "What is also remarkable is the exposure young SSCV athletes get watching their older SSCV peers and other top athletes from around the world, perform at levels the likes of what we saw here today."
The excitement is not over yet!  Come on down for the last two days of the MacDermid NorAm Cup at Golden Peak on Thursday and Friday to enjoy the Men's Giant Slalom.
Press Release-December 19, 2013
NorAm Cup Giant Slalom Kicks in for the Men at Golden Peak
Two great Giant Slalom courses awaited the men at Thursday's MacDermid NorAm Cup.  With a combined time of just over 2 minutes, Dustin Cook of Canada stood at the top of the podium.  Mark Engel from the western US took second place with David Chodounsky of the US Ski Team taking third.
The final day of the NorAm Cup holds one more Giant Slalom for the men.  Come on out to cheer these young men on before they head to other parts of North America for the rest of the NorAm Cup series.