SSCV Technical Services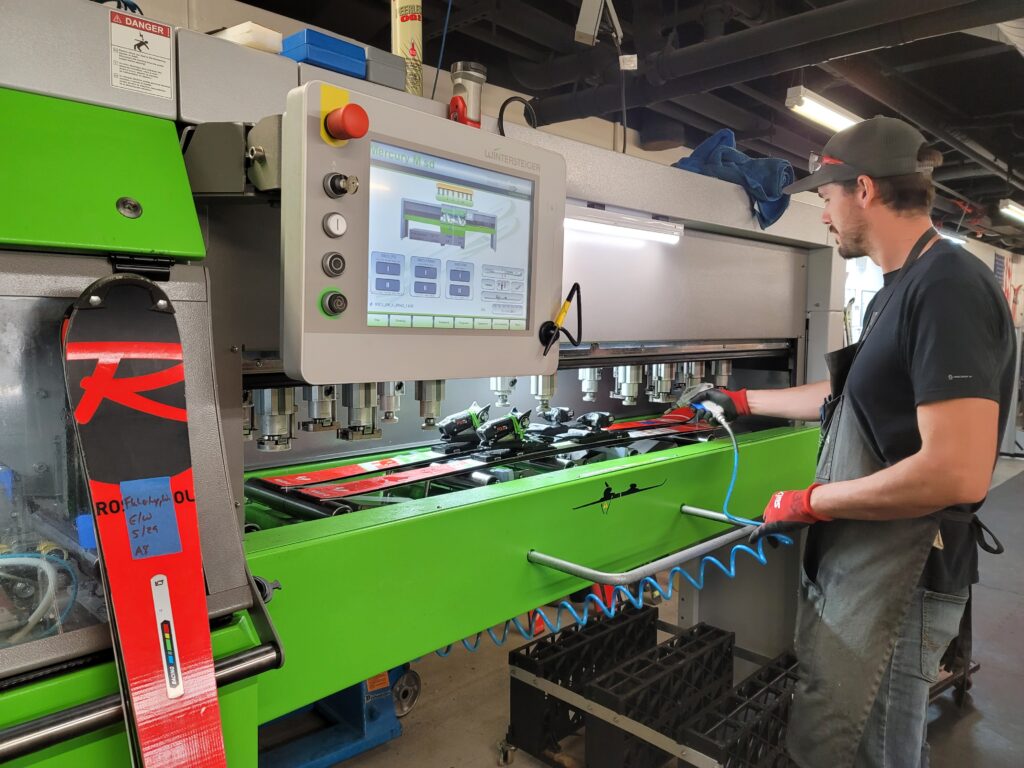 SSCV Technical Services at Golden Peak
SSCV Technical Services at Golden Peak provides athletes with reasonably priced, easily accessible resources for the highest level preparation of their equipment for both training and competition.
Technical Services, located at the Ski & Snowboard Club Vail Clubhouse at the base of Golden Peak, provides athletes the ability to visit and communicate live with SSCV technicians during the training day. Technical Services can ease transportation logistics during the busy winter season by providing ski service and equipment storage at Golden Peak.
In addition to equipment tuning services, the shop at Golden Peak and Equipment Manager can assist with:
Procuring test equipment for camps
Assisting with equipment orders throughout the year
Baselining equipment setup to SSCV norms
Boot evaluation
Sale of tuning equipment for athlete home and travel use
Contact with industry vendors and local shops for post-sale service
For additional information about SSCV Tech Services, reach out to Equipment Manager Paul Suomi at psuomi@skiclubvail.org.
Ski Tuning Programs
SSCV Technical Services offers a range of tuning programs, including annual service plans for an athlete's entire quiver of skis. We also provide a la carte services.
WC tuning service for an athlete's entire fleet of skis.
Athletes signing up for the Elite Program work daily with their coach, the Equipment Manager, and Tune Shop staff to set up and maintain equipment for optimal, consistent performance day in and day out, whether training or racing. Elite Tuning Program athletes have access to service at home in Vail throughout the year for home training and to prepare equipment for travel (camps or away races).
The Elite program includes:
Unlimited equipment service
Overnight turn -around every night except Sunday for Monday
Race prep with race specific wax based on conditions
Initial preparation for all athlete skis
Setting and maintenance of edge bevels
Wax, scrape, brush cycles
Base Grinding (flattening of ski base, new structure, post­grind conditioning) as needed in season
Base repair
Binding mounting, ramp angle evaluation and lifter install
Standardized equipment set up with data cataloged for reference and in­ season set up replication
Storage for two to six pairs of skis at shop depending on program
Additional storage can be purchased
* Race waxing is not available at away competitions, however athletes will depart for away races with their entire ski quiver prepped for racing. Individual athletic programs provide an overlay option at the event where necessary. Full coordination between the athlete and coaching staff with support from the Equipment Manager ensures any equipment preparation required at away races is appropriate for the conditions and executed successfully to athlete and coach expectations.
Elite Tuning Prices
FIS Athlete: $3,450
U16 Athlete: $3,450
U14 FT Athlete: $3,450
U12 FT Athlete: $2,950
U14/U16 PT Athlete: $1,650
U10 Athlete: $1,950
Age Class Prep: $900
A la Carte Tuning Services
A la carte Tuning Services are available to the SSCV membership for athlete equipment only. Please note turnaround time on all a la carte work is 72 hours minimum, and depending on workload, work completion can take longer (it's best to plan as far out in advance as possible). SSCV members and guest training teams receive a 20% discount off of all a la carte services.

| Service | Charge |
| --- | --- |
| Initial Ski Prep* Includes sidewall preparation, base grind and post grind base conditioning as needed, edge bevel set, binding mount, ramp angle evaluation and lifter install, wax. | $180 |
| Full Tune* (After initial prep) Includes base grind, post grind base conditioning, edge bevel set, wax, scrape, brush. | $90 |
| Edge and Wax* | $30 |
| Race Service* | $40 |
| Binding Mount – mount, forward pressure set in, din set, binding delta evaluation* | $40 |
| Base Grind only* | $60 |
| Base Repair* | TBD – based on damage |
| Delta Evaluation/Lifter Install- binding mount plus $12-24 per set lifters* | $40 |
*Please allow minimum of 72 hours for a la carte Tune Shop services to be completed. Some services, such as initial ski prep and base repair typically take longer than 72 hours. If there are questions related to timing to get the job done on time and the current (and upcoming) workload in the Tune Shop, please inquire with us at psuomi@skiclubvail.org.
Tech Service Logistics
Equipment can be dropped off or picked up in the in/out racks located at the interior entrance of the Technical Services shop.
Fully fill out a service tag for each pair of skis requiring service with all information we require to complete the work even if you think the staff is already aware of your specific needs.
Minimum turn-around time on all non-tuning program equipment service is 72 hours

Note: major services like initial ski prep, full tune, and base repair may require additional time.

The shop does not operate on Sunday for Monday pickup. Please plan equipment needs for any Monday skiing accordingly.
All work must be paid in full when equipment is dropped off for service.
Technical Services Calendar
Thank You
From the entire Technical Services staff  for helping us provide equipment service that exceeds your expectations.