So, what do you do when you are on the hill and at races/competitions with athletes?
This seems to be a common question when I meet folks out on the hill and at races. Great question!
The answer can be described in three levels. The first level involves becoming part of the scene, part of the furniture to help coaches and athletes feel comfortable with a Peak Performance Coach being around. Another aspect of the first level involves observing the team, learning more about the environment and getting to know individuals more personally.
The second level involves being with a team to answer questions, brainstorm with the athletes, find teachable moments and help implement group goals. An additional aspect here is to be available for conversations and interactions with athletes who prefer brief or informal interactions vs. formal sit down meetings.
The third level involves working individually with an athlete in their sport venue. Most elite athletes have put much time in during the summer and fall so that during the winter they can focus on using and tweaking their mental game.  The goal is to be there for live feedback or intervention in pursuit of the athlete's specific mental goals.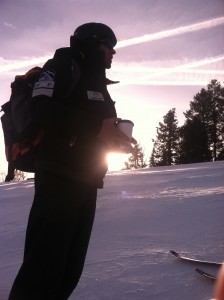 Recently while attending a race in Aspen Coach Rob Worell shared the low down on a SG course.