Industry professional will continue to lead Birds of Prey setup
It is with mixed emotions and sincere appreciation that we announce the resignation of John "JC" Cole from his position of Human Performance Director at Ski & Snowboard Club Vail. JC's final day with the club will be September 5.
For a quarter century, JC has been an integral part of Ski & Snowboard Club Vail, working first as a ski coach and then building the club's Human Performance department from the ground up. He has led SSCV's Human Performance program, Birds of Prey setup, and the Minturn Fitness Center with enthusiasm and dedication, and his presence will be truly missed.
In his resignation letter, Cole wrote the following:
I have given the majority of my adult life to this organization for the last 25 years, and they have all been special and different in their own way 
Tackling projects, such as the inception of the Birds of Prey World Cup in Beaver Creek (which in those days was almost solely run by BC Race and SSCV), to building SSCV's first inclusive Human Performance program and later development of the Minturn Fitness Center, it could be said that I enjoy taking on big projects," he added. "In the life of every professional, there comes a time for new challenges and projects. After some sincere and deep introspection, I know that now is that time.
I could not be prouder of the staff at the MFC (Jimmy, Miles, and Kris), the staff at SSCV, and the work we have all done together to build the nation's leading program. I am very much looking forward to watching the progression of Ski & Snowboard Club Vail in the future.
I am truly thrilled and excited to start the next chapter of my life, along with my family. We will not be far away, as our home remains in Edwards. My family and I will still be members at the MFC. And to the staff at SSCV, you will continue to have my assistance with the World Cup, as long as my new opportunities don't preclude the dates of the event.
I will sincerely miss all of the families and staff at SSCV and look forward to seeing your success as you work hard to achieve great things with this program. Go SSCV!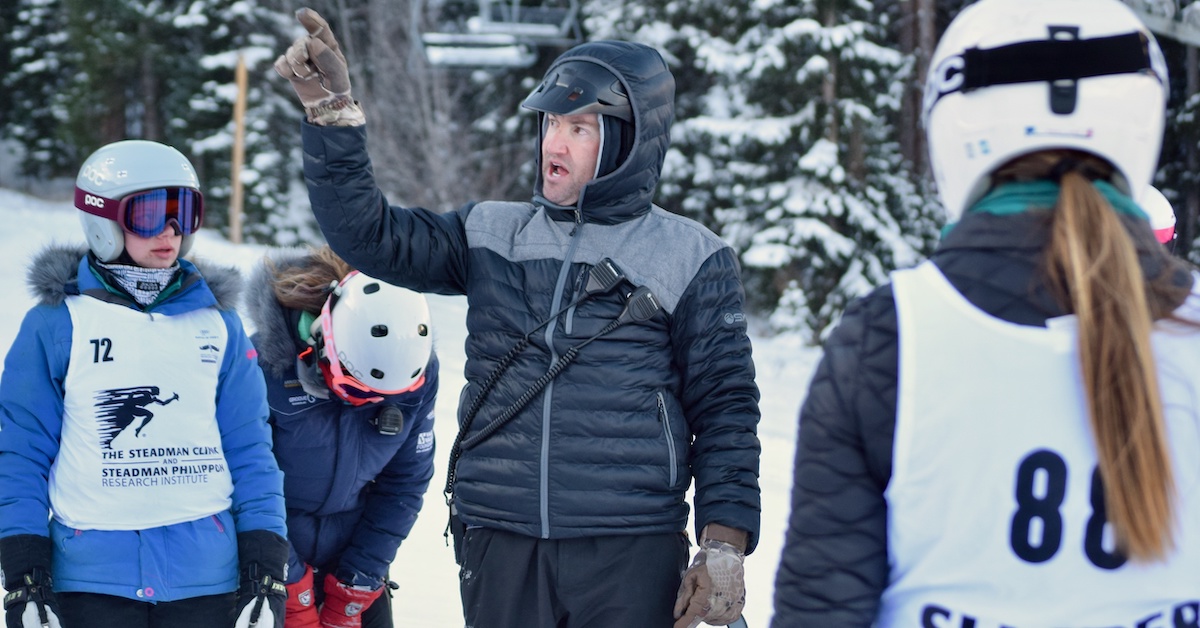 At a farewell luncheon on Wednesday, past and present SSCV staff and board members gathered to share some memories — and a few laughs — in recognition of JC's vast contributions to Ski & Snowboard Club Vail. Among those comments were the following:
"JC has been part of Ski & Snowboard Club Vail for 25 years, and the growth that he has seen in membership, the scope of the club and complexity is amazing. I personally worked at a ski club — Green Mountain Valley School — for 25 years, and I know the dedication it takes and it's much more than a job. It's because he has a passion for this sport and this community. JC has exhibited tremendous professionalism, but combined with that professionalism is a love for what he does. He's the best in the business and we look forward to seeing what he does next."
— Kirk Dwyer
SSCV Executive Director

"I have zero doubts that JC makes the best snow pit at the start in the world. If you remember JC as a young coach, I always admired his snow pit. He was always the first up there. The speed skis were ready a Crested Butte. The sound system was the best out there. The sunscreen — JC had everything dialed. … It's a testament to his professionalism. When I first came here, what was that weight room, 10×12? And you could see that start pit in the weight room. Thanks for all those years of high-level professionalism."
— Rob Worrell
SSCV Coach

"JC was a professional in every area of his coaching. He wanted to be the best coach possible. You could see it in the way he dressed, the way he ran his training. If there was training on the hill and I was looking to train with somebody, oh, I'd be looking for JC because it always ran like a professional training environment. When Aldo said he was going to have him run the MFC, I said, 'Why would you do that? He's such a good coach.' And Aldo said, 'He's good at a lot of things.'"
— Sarah Radamus
SSCV Coach

"I joined the Ski Club as a racer in 2001, and JC was my coach my first year. I can still remember, I was one of the worst skiers in my group. But it didn't matter. JC was always keen to work hard and took me in. And it meant a lot to me during those early days of ski racing. Every time I left and came back (to SSCV), it's been amazing to see how much the programs he's built have grown and how professional and productive they've become."
— Ian Lochhead
SSCV Coach
"JC, you have been here since I got here when I was a fresh kid out of college, and our offices were right next to each other for many years. Tiffany (Hoversten) and I really got to know you over many years. … We just really appreciate everything you've done for the club. And we just hope we can maintain your professionalism and your standards. It's been an enjoyable 14 years with you, and we're really going to miss you."
— Euginnia Seyferth
Events & Development Director

"It was spring of 2002, Rocky FIS champs. We were over at Beaver Creek on Centennial, and I brought my group of girls from Burke out because I knew the points were going to be pretty good, and somehow I ended up with a course set. I don't think we had ever met, and JC said, 'Who's this guy from the East setting in Rocky and setting on our hill?' We were a little pressed for time and I start setting. I was on, I think, the second gate, and JC says, 'Are you really gonna put that there?' So I get down to the fifth gate, and he says, 'You cannot put that there!" … But we didn't have a lot of problems after that, and I think the course ran OK. … I think what's been mentioned a few times today, it speaks to JC's professionalism. I don't know if you were chief of course or chief of race, but you weren't going to let anything go wrong with that race because it would reflect badly on Vail. That's what you've done your whole career here, and I know you will continue to do that in the next chapter."
— John Hale
SSCV Chief Operating Officer
All of us at Ski & Snowboard Club Vail would like to extend our deepest gratitude for JC's many years of service, and we wish him all the best in future endeavors. In the coming weeks, we will provide an update with regard to the Human Performance program, but in the interim, the MFC is in great hands with Kris Bowers, Jimmy Pritchard, and Miles Gentry.