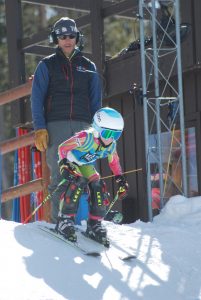 This past Sunday's Head Rebel Youth Ski League Kombi event hosted by Ski & Snowboard Club Vail provided tons of fun for alpine racers ranging in age from 8 through 15. Competitors raced down Vail Mountain's Black Forest, which included a series of small jumps and undulating terrain with multiple stubby slalom and giant slalom gates. The course aimed to promote transitions from short to longer turns to test the young athletes' balance and tactics on the slopes.
The day's events also included a Skills Quest Test-a United States Ski and Snowboard Association requirement to test the athletes skiing skills outside of the gates. The testing consisted of a straight run into a side-slip, edge set and pole plant. Ski & Snowboard Club Vail's Head Youth Ski League Coach Rika Moore shared, "Excitement has been building among our athletes throughout the season for this home Kombi. They were well prepared and ready to meet their competition, having worked hard at their free skiing skills in moguls for short turns as well as in gates."
Top three results and all Ski & Snowboard Club Vail results are listed below.
Girls AM Race
1 Taylor Duel CLD
2 Amanda Stevens VDT
3 Ava Cavataio VDT
8 Josie Levine SSCV
9 Pixie Alfond SSCV
14 Penelope Lazar SSCV
17 Hadley Reed SSCV
19 Layah Foley SSCV
33 Alexandra Cleary SSCV
39 Eden Demino SSCV
45 Gracie Cohn SSCV
52 Caroline Lazar SSCV
62 Elle Guillot SSCV
Girls PM Race
1 Taylor Duel CLD
2 Abby Fennell CLD
3 Amanda Stevens VDT
7 Pixie Alfond SSCV
12 Josie Levine SSCV
20 Layah Foley SSCV
21 Penelope Lazar SSCV
22 Hadley Reed SSCV
39 Alexandra Cleary SSCV
42 Gracie Cohn SSCV
45 Eden Demino SSCV
55 Caroline Lazar SSCV
67 Elle Guillot SSCV
Boys AM Race
1 Alexander Viola SSCV
2 Jovian Borek SSCV
3 Xander Armistead VDT
5 Asher Silberman SSCV
11 Sean Conlon SSCV
13 Ross Bradbury SSCV
17 Yakov Foley SSCV
19 Garrett Leonard SSCV
21 Max Bradbury SSCV
24 Walker Hosea SSCV
25 Jack Lyons SSCV
27 Tommy Bartha SSCV
28 Jackson Cohn SSCV
30 Oliver Kullberger SSCV
35 Ashton Granger SSCV
36 Weston Roach SSCV
42 Ryder O'Connell SSCV
43 Mack Douglas SSCV
46 Finn Sullivan SSCV
48 Robert Lazar SSCV
60 Flynn Sinclair SSCV
64 Colby Saunders SSCV
Boys PM Race
1 Alexander Viola SSCV
2 Xander Armistead VDT
3 Jovian Borek SSCV
5 Sean Conlon SSCV
10 Yakov Foley SSCV
14 Ryder O'Connell SSCV
20 Walker Hosea SSCV
21 Max Bradbury SSCV
22 Garrett Leonard SSCV
26 Jack Lyons SSCV
28 Oliver Kullberger SSCV
30 Ashton Granger SSCV
36 Mack Douglas SSCV
37 Finn Sullivan SSCV
37 Jackson Cohn SSCV
39 Weston Roach SSCV
54 Colby Saunders SSCV
57 Robert Lazar SSCV
59 Flynn Sinclair SSCV
62 Rylan Sinclair SSCV