Vail, Colo. January 4th, 2023 – Ski & Snowboard Club Vail (SSCV) has announced their Character, Courage and Commitment (3C) December 2022 Athlete Award winner Will Bentley and their 3C December 2022 Staff Award Winner Miha Kurner. Both SSCV athlete and staff recipients have demonstrated to the highest level their commitment to the SSCV Core Values – Character, Courage, and Commitment (the 3C's) during their time on and off the snow. 
The 3C awards are based around recognizing SSCV athletes and staff on their embodiment of SSCV's core values of Character, Courage, and Commitment, key character traits which SSCV staff aim to emulate and impart on their athletes in all that they do. SSCV coaches work with athletes to develop the skills required for each athlete to reach their full on-snow potential alongside cultivating the character traits needed for each athlete to work hard and push themselves beyond their comfort zone to be their very best both on and off snow.   
A total of ten SSCV 3C Awards — five SSCV athlete awards and five SSCV staff awards — will be given out this season, one SSCV athlete winner and one SSCV staff winner for each month from December through April. The Walter Kirch Character, Courage and Commitment Season Winner will be selected from among the five SSCV 3C athlete monthly award winners and awarded at SSCV's Year End Awards Banquet.  Anyone can nominate any SSCV athlete or any SSCV staff member for the respective 3C award.
3C December 2022 Athlete Award Recipient – Will Bentley
Will Bentley is a second year U16 within the SSCV Nordic program. Below is his nomination text: 
The Nordic Program is proud to nominate Will Bentley for the December 3C award. Will's competition season is off to a fantastic start. As a second year U16 he has twice raced up as a U18 this season to get experience at the 10k distance. In West Yellowstone he finished the top U18 and 3rd place junior, only bested by two U20 college skiers. At the Sun Valley SuperTour he won the junior mass start as a second year U16, topping both the U18 and U20 fields. On the sprint day he qualified into the top 30 overall, making senior rounds, the only U16 to do so and one of three U18 skiers in the senior race. You get the point, he's had an amazing start to the season. Most importantly, these results are due to the effort that he has put in and difficulties that he has overcome. While impressive, these results are simply not that important compared to what we ask for in the members of our programs outside of competition and if the story was only the podiums it wouldn't be getting told.
To give Will's results more context, it's important to understand some of the adversity he has faced in the last three years, above and beyond the trials our community has endured through the pandemic.
In March 2019 Will suffered a severe concussion that ended his season prematurely. 
In 2020 he tore a tendon in his knee and broke his patella, ending his season prematurely. 
In December 2021 he broke his leg, 3 days before leaving to compete at Senior National Championships, season over.
In July 2022 he suffered a severe high ankle sprain that eliminated any lower body training for 6 weeks, one of the most important times for nordic training. The positive on that one was it gave them a chance to go in and take out the rod from the broken leg…
You are starting to get the picture, the kid plays hard. The option is to go all in and give his best. It's the only option and it has positives and negatives…
In addition to these season-ending injuries he has a list of other sprains, strains, foot injuries, hurt shoulders from mountain bike crashes etc, etc.
What impresses me is that he keeps coming back, and what he does when he is "injured". He's still as hungry as ever. When one injury or another has eliminated or limited one mode of training, he simply does the other modes that he is cleared to do at the time – treadmill work, double pole only rollerskiing, ski erg, road biking – often alone and not always exciting, but allowing him to keep striving towards his goals while he rehabs. 
He is a terrific example of character, courage and commitment and the Nordic Program is proud to nominate him. 
3C December 2022 Staff Award Recipient – Miha Kurner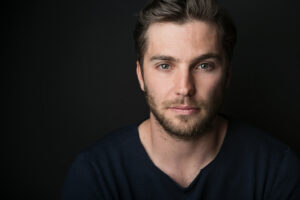 Miha Kurner has joined the SSCV staff this year as an Alpine U14 Coach and prior to that was coaching older Alpine athletes at SSCV. Below is his nomination text: 
Coach Miha is a serious ski racer and race coach, but he is also approachable and kind. He naturally connects with each of his skiers and their parents. Above all, he is empathetic and cares about each of his athletes in a holistic way. And when he receives a compliment, he is humble and shares the praise.
Below is a list of the 3C December 2022 Staff Award and  3C December 2022 Athlete nominees: 
3C December 2022 Athlete Award Nominees 
Julian Arthur/Spencer Peterson
Eva Croney-Ferraiuoli
Yannai Dagan
Boden Graybill
Peter Kan
Nash Lucas
Leila Martinez (two nominations)
3C December 2022 Staff Award Nominations 
Lucas Hafer
Courtney Kenefick
Alex Shorter (two nominations)
Charley Stocker
Andy Weber
Rob Worrell