You will find more details under the below flyer.  Please keep scrolling.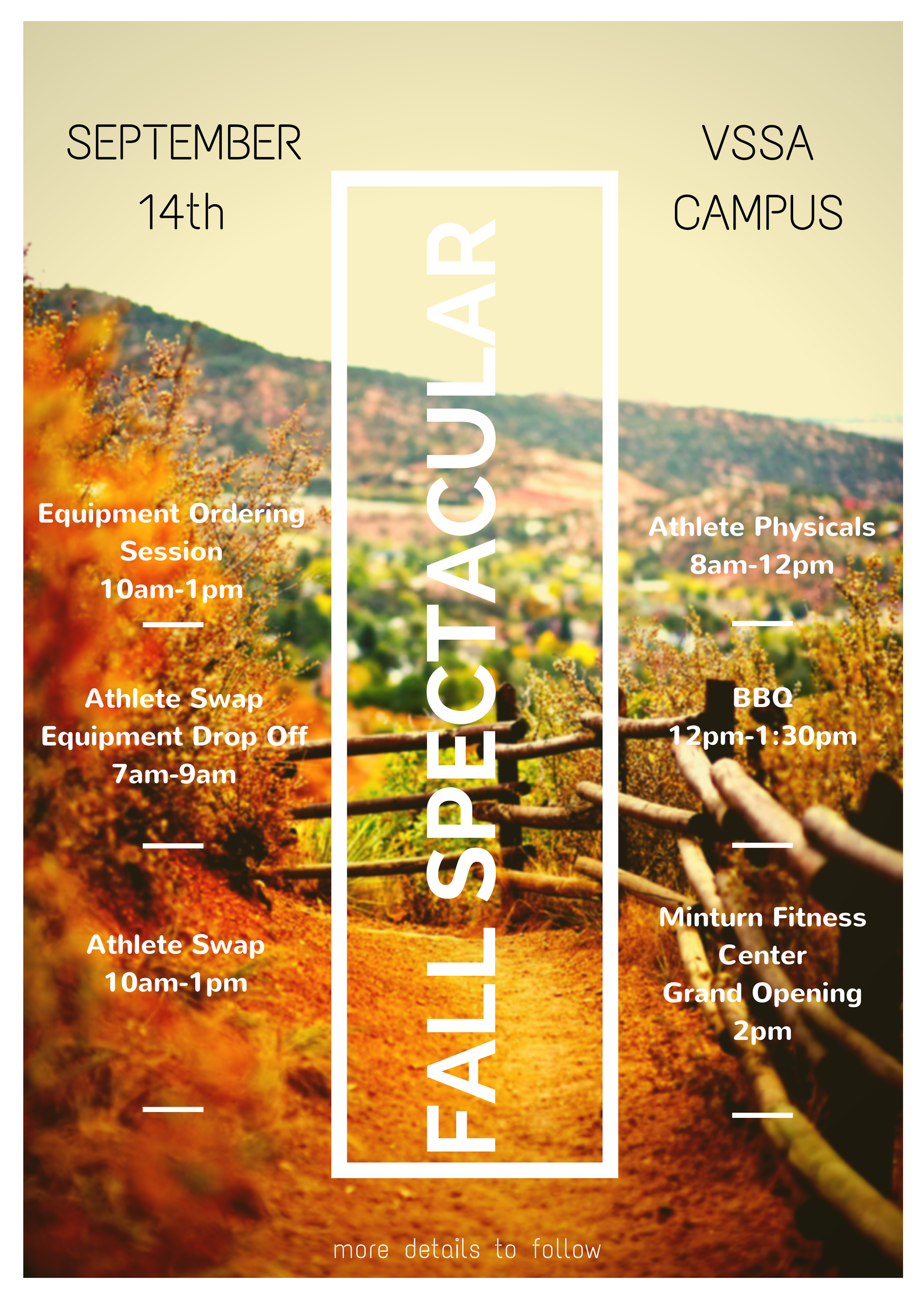 Event Details
Date: Sunday, September 14th
Time: 10am-1pm (BBQ from noon-1:30pm)
What: Equipment Ordering Session, Athlete's Swap, BBQ, Athlete Physicals & Minturn Fitness Center Grand Opening
Who: SSCV Athletes, Families, and Donors
Where: Maloit Park Campus, Home of VSSA, SSCV & Minturn Fitness Center
Winter is just around the corner and it is time to think about gearing up for the season!  Order all of your softgoods & hardgoods at SSCV club prices.  Reps from various ski and snowboard companies will be on hand to take orders.  This is a very busy session and it can be overwhelming with many families making their ordering/fit session, keep tips in mind:
Before the ordering session:
Have your child try on last year's equipment.
Contact your child's coach if you have questions about sizing or models.
Write down what you have and what you think you want, including sizes and models, and run them by one of the coaches.
At the ordering session:
Bring your list with you and check it off as you go.
Allow at least an hour to get your ordering done.
Please arrive by 10:30am, things take time and there are only so many of us that can help you.
Back by popular demand. SSCV will be hosting the 3rd Annual Athlete's Swap.  This will give families the opportunity to sell or buy used equipment.  We will only be accepting hardgoods ONLY (skis, boards, boots and poles).  Please have ski's/boards tuned and in good condition.  We will not accept equipment in poor condition or equipment that is not geared towards athletes.  Softgoods can be brought to sell at our Annual Ski & Snowboard Swap on October 24-26th.
Athlete Swap Details:
Date: Sunday, September 14th
Where: VSSA Cafeteria
Equipment Drop off: 7am-9am (You can pull into the back parking lot by the Pro Shop/ cafeteria to drop off only.  Please park in the student/faculty parking lot during sale hours)
Sale hours: 10am-1pm
Unsold equipment pick up: 1pm-2pm (Any unclaimed equipment will be donated to SSCV)
Mandatory Athlete Physicals:  At 8am staff from The Steadman Clinic will be conducting Mandatory medical/orthopedic physicals free of charge.  This is mandatory for all SSCV athletes 12 and older.  If you are unable to attend, you will need to arrange a doctor's physical by October 1, 2014.
SSCV Physical Schedule:
8:00am-9:30pm- All U14 Athletes
9:30am-11:00am- All U16 Athletes
11:00-12:30pm – All U18 Athletes
Please fill out the Medical History Form and bring with you to the physical.
Directions to the Maloit Park Campus:
We will be having our Equipment Ordering Session in the front parking/bus loop, weather permitting.  If the weather is not great we will be having it in the gym of the school.
Minturn Fitness Center Grand Opening:
Date: Sunday, September 14th
Where: Minturn Fitness Center Driveway
When: Ribbon Cutting Ceremony will begin at 2pm
What: Tours of the MFC facility will be at 12pm, 1pm and 2:30pm. Cake and refreshments will be served.
See you on September 14th at the Maloit Park Campus!