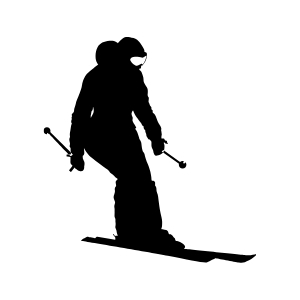 Zach Booth
Freeride Middle School Coach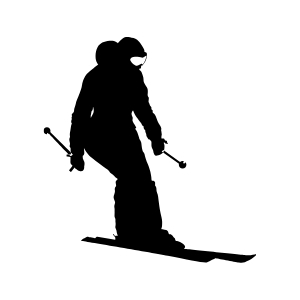 Zach Booth
Freeride Middle School Coach
Hometown: Leadville CO
Born in the Vail Valley, Zach has been skiing as long as he can remember. When he was just 3 years old his uncle would build little jumps for him to go off of. Zach has memories of being part of SSCVs alpine program before focusing on hockey.
Zach graduated from Eagle Valley High School (Gypsum, CO) in 2018. During his time at EVHS, Zach was an all-state athlete for two sports. Once he graduated he went on to play junior hockey.
Zach has spent time coaching lacrosse at High Altitude Lacrosse. He is excited to bring his coaching experience to athletes at SSCV. He is excited to share his love of skiing and many possibilities it creates. Zach looks forward to helping athletes meet their goals, find what they love doing, and find happiness in skiing.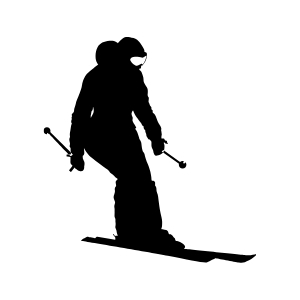 Erin Connelly
Freeski Rookie Team Coach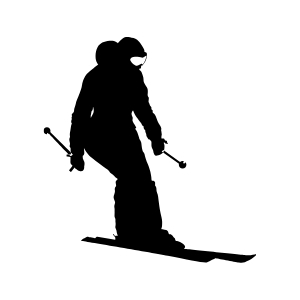 Erin Connelly
Freeski Rookie Team Coach
Hometown: Palm City, FL
Erin started skiing when she was on vacation with her family. She remembers her mom dropping her off at ski school and missing her during the day. She also is able to snowboard and would snowboard with her dad and ski with her mom.
Erin went to Vassar College (Poughkeepsie, NY), before moving to the Vail Valley. She has spent time learning the mountain on her own and from friends.
Erin's own accomplishments in bounds and in the backcountry have taught her that anything is possible with the right mindset and enough patience and she hopes to instill this mentality in the athletes she works with. She looks forward to being a positive mentor and sharing her love of skiing.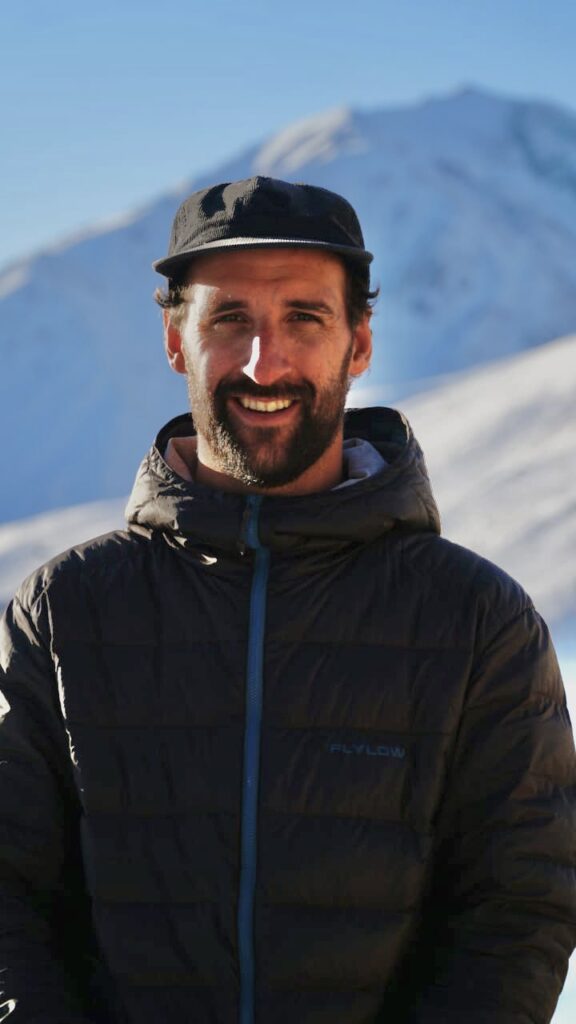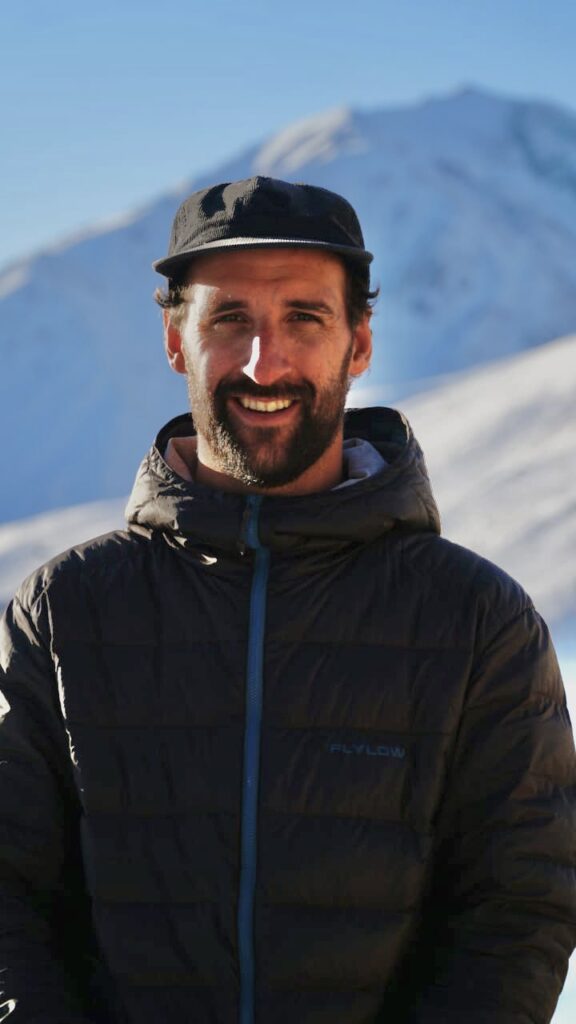 Matias Doherty
Freeride Coach
Born and raised in Santiago, Chile, in a family of ski instructors, Matias quickly became passionate about exploring the Andes Mountains through skiing. At an early age, while his parents instructed, he roamed the local mountains with his brother Daniel and sister Trinidad, in search of fun experiences and perfecting the goggle tan.
At age 15 Matias moved to up-state New York where he commenced his professional career as a ski instructor along with his father Todd at Gore Mountain, while also competing in Freestyle events. The passion for sharing the skiing experience with younger and older generations was lit at this time, and he pursued the teaching path to afford and fuel the ski bum life.
Matias obtained a double degree in Recreation & Outdoor Education, and Political Science from Western Colorado University in Gunnison, while skiing Crested Butte before class.
Matias has competed on the FWQ circuit for many years, qualifying top 3 overall in the South American region in 2017, and one of the top, most consistent South American athletes on the Americas circuit. He is passionate about coaching the younger generations while also getting to train himself. Matias looks forward to many years encouraging young athletes to find their passion in skiing, while also inviting them to thrive as individuals of an amazing community.
Certified WFR, AIARE 1, AST 2 Avalanche, and IFSA L200 Coach.
Willis Engelhart
Freeski Park & Pipe Head Coach
Engelhart, a Minnesota native, most recently served as Head Coach for Team Breckenridge's park and pipe program — a position he held for four years. A former competitor in slopestyle and big air, Engelhart began teaching skiing at the age of 14 and has been coaching for 11 years. 
Engelhart is an accomplished ski coach with experience developing athletes and advancing them to an elite level. He's worked with several international competitors, such as Yuna Koga and Rai Kasamura (Japan), Thibualt Mangnin (Switzerland), and Max Mcdonald (New Zealand). Domestically, he's coached 15 athletes to national championship titles, including many who have gone on to compete at the Dew Tour, World Cup and X Games, and he has twice served as Project Gold Camp Coach with U.S. Ski Team. 
Engelhart holds a bachelor's degree in Business Administration, and is educated in budget management and accounting, useful in planning transportation and competitions. Those administrative skills are coupled with a strong ability to communicate needed goals to develop tricks and prepare athletes mentally for high-level competition.
Peter Ferraro
Freeski Park & Pipe Coach
Peter was born in Aspen, Colorado and moved to Vail when he was two years old. He has been skiing since before he can remember and loves nothing more than to spend a day on the mountain with friends.
Peter has been on many different ski teams over the years including Buddy Warner racing, Vail Mountain School (Vail, CO) Telemark freeski team, and the CU park team. Peter graduated from Vail Mountain School in 2017. While at VMS Peter was a member of the soccer and telemark teams where he made friends from Vail Ski and Snowboard Academy and started to learn about Ski & Snowboard Club Vail through them.
He graduated from Colorado University Boulder (Boulder, CO) in 2021. At CU Boulder Peter majored in Environmental Sciences with a minor and emphasis in Atmospheric and Oceanic Science. While on the CU Freeski Team, he was the park co-captain and helped organize events for teammates such as slush cups, competitions, and ski trips. He and friends participated in various intramural sports including soccer, tennis, ping pong, and bowling. This was a great way to try new sports and meet new friends and even won the bowling intramural championship tournament.
Beyond time spent playing intramural sports in college, Peter would drive back home to Vail every weekend to go skiing. He finds so much joy spending time outside sliding around on skis. Peter knew he wanted to pursue a job within the ski industry right after college.
Peter is very excited for the opportunity to share his experience with athletes and make the mountain a fun, safe place to play with others that share enthusiasm for the sport. As a first year coach he is excited to bring energy to SSCV and has a lot to offer in terms of knowledge, experience, and general energy to athletes and all other members of SSCV. Peter is stoked to watch athletes progress throughout the season and to spend time on the mountain with a group of kids that are just as excited and happy to ski as he is.
David Honeyfeild
Freeski Rookie Team Coach
David began skiing when he was 13. He learned to ski at Vail and competed in USSA Moguls from 16-18, then coached for several years David graduated from CU Boulder in May 1989 with a degree in Economics. Through highschool, David played baseball, lacrosse, and tennis in addition to skiing and cycling. David is a level 100 USSA Alpine Coach and has been coaching for the past 13 years with the Competition Center in Winter Park and now with SSCV. David loves seeing the athletes develop their skills and confidence over the course of the season. Watching these young athletes bond as a team and the smiles on their faces as they test themselves in situations that are designed for them to have success is great fun for David to be a part of. David also trained and competed at a high level in mountain biking racing for many years. David is excited to be a part of the SSCV coaching staff.
Sean Jordan
Freeski Coach
Hometown - Moscow, PA
In Sean's early childhood he was a competitive gymnast. He learned how to ski because his older brother skied. Once on a pair of skis his skills as a gymnast translated seamlessly. He was hooked - traveling to the local mountain every Wednesday with his school's ski club.
Sean graduated from North Pocono High School (Moscow, PA) where he was a member of the soccer and basketball teams until his junior year when he began to focus on skiing.
At the age of 15, Sean became a professional skier and continued his professional career until age 27. During this time he competed at the Dew Tour for more than 8 years, earning a 1st place in 2015 for the Streetstyle competition. Sean also has filmed segments with major production companies including: PoorBoyz Productions, Matchstick Productions, Teton Gravity Research, and Stept Productions. In 2013, Sean was on the cover of the Freeskier Photo Annual.
As a coach Sean is excited to pass on the knowledge he has gained from being a professional skiing to the next generation of Freeski athletes and wants to help athletes achieve their goals.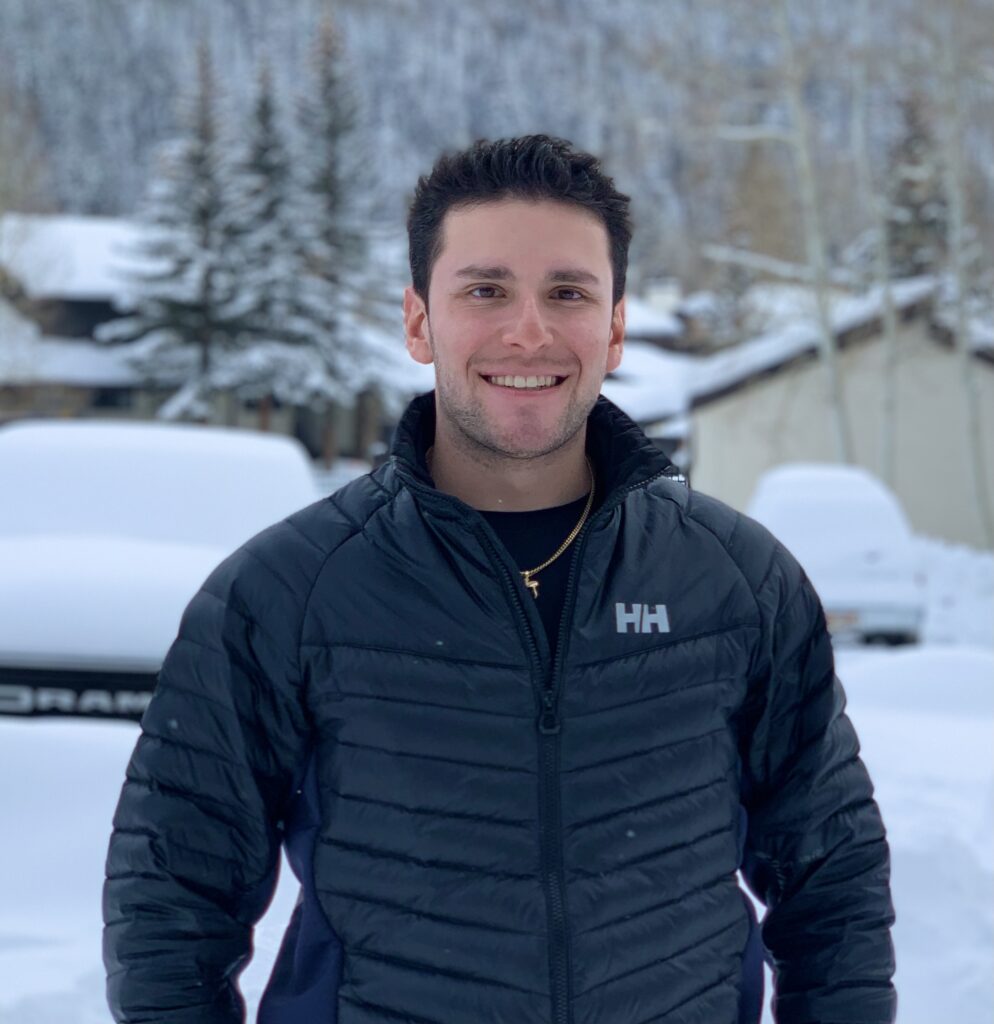 David Kuhr
Freeride Weekend Coach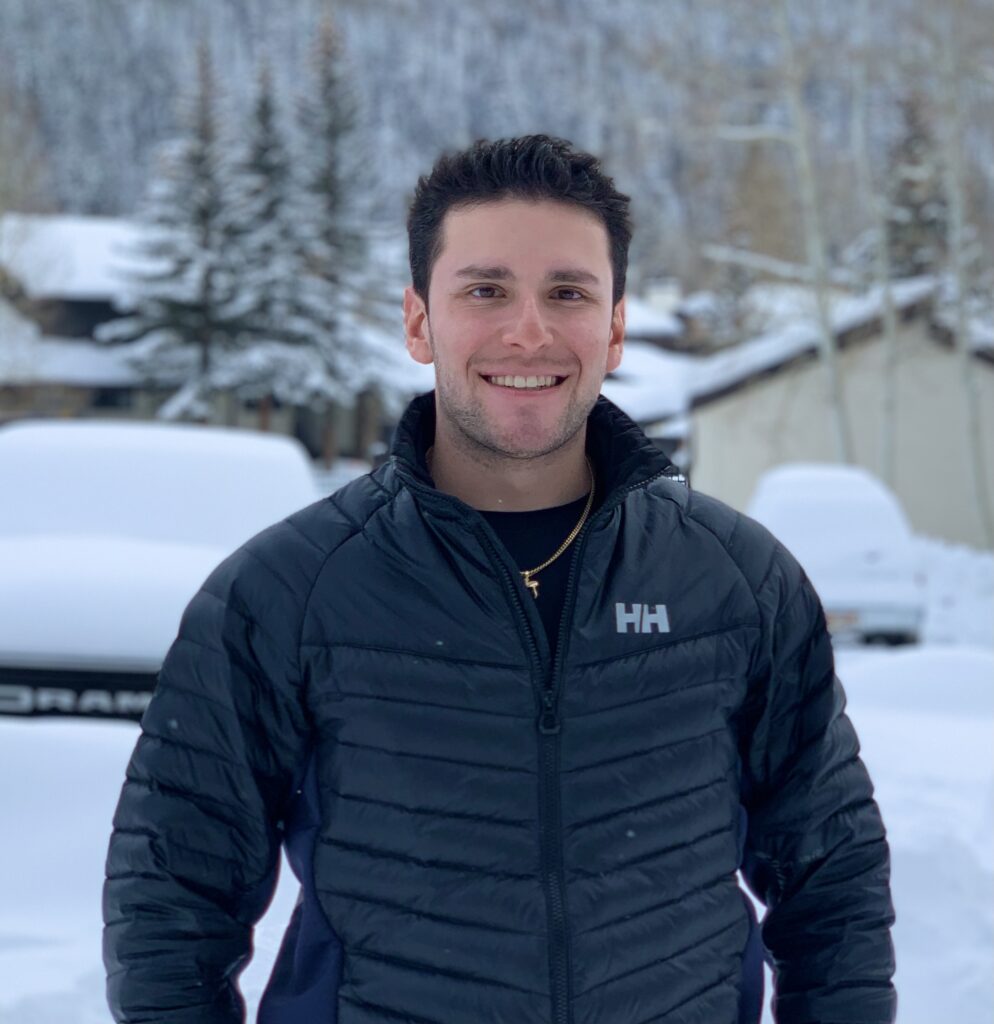 David Kuhr
Freeride Weekend Coach
Hometown: Northampton, Massachusetts
David's parents began bringing him to local hills when he was four years old. He grew up skiing the Northeast in Massachusetts, Vermont, and even Quebec, Canada!
During his high school years at Northampton High School inNorthampton, Massachusetts, he was a member of the hockey and lacrosse teams.
David spent a season at Mont Tremblant (Mont-Tremblant, Quebec, CA) working as a ski instructor. He then moved to Colorado, joining the Beaver Creek ski school for four seasons. He holds CSIA Level 2 and PSIA Level 2 Certifications.
David wants to instill a lifelong love for skiing in his athletes, while pushing them to be the best athletes they can be.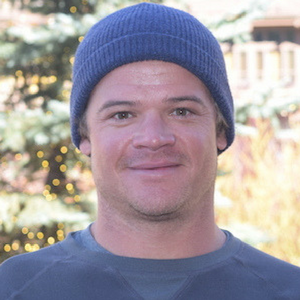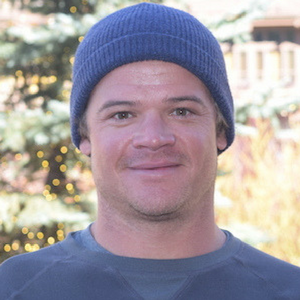 Chris Laske
Freeski & Snowboard Program Director
Added to the Snowboard coaching staff in 2015, Chris Laske hails from Brighton, Michigan, where he has spent winters as a professional Snowboard Coach and owns and operates a successful wakeboard school in the summers. He is also an experienced trampoline coach and world champion professional wakeboarder himself. Chris is most noted for working with pro rider Kyle Mack, who won the gold medal in slopestyle at the Burton US Open at Vail this past season.
Writing of his motivations as a coach Chris states: "Nothing feels better than to watch a student achieve their goals and progress to the next level."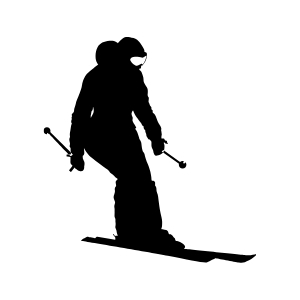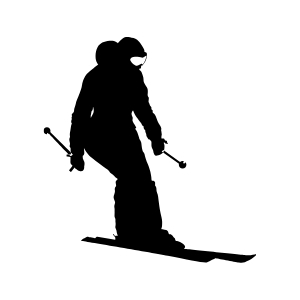 Aaron Levenson
Freeride Coach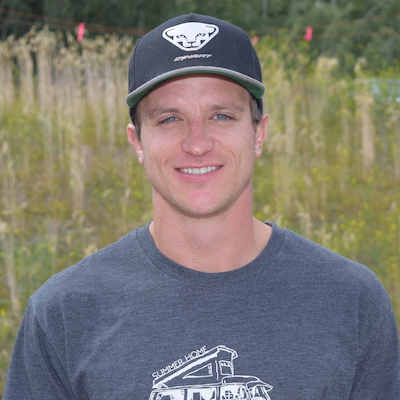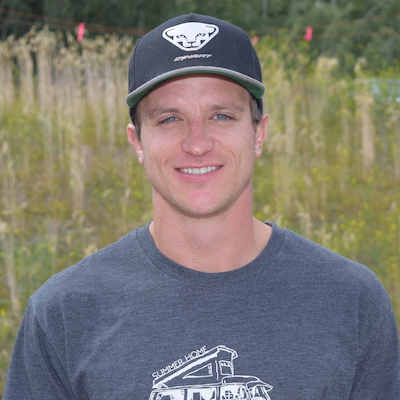 Matt Luczkow
Rookie Team Development Head Coach and Freeride Head Coach
Matt Luczkow grew up in Eagle, Colorado. He started skiing with SSCV at an early age and raced until the age of 14. In high school he began to pursue park & pipe and big mountain skiing, competing in all disciplines. After competing, Matt skied professionally, being featured in films by Warren Miller and appeared in every major ski magazine. Matt started coaching part-time in the big mountain program in 2017 and found it very fun and rewarding. Starting as head coach in 2019, Matt wants to help all the young Vail skiers realize their full athletic potential, and to develop in them a love for mountains, skiing and nature.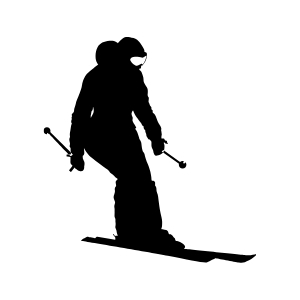 Greg Myers
Freeski Rookie Team Coach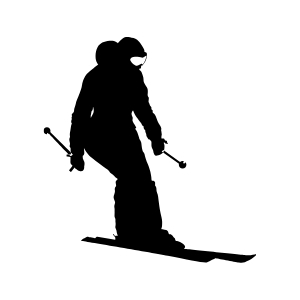 Greg Myers
Freeski Rookie Team Coach
Hometown: Chattanooga, TN
Greg started to ski when he was ten at a small mountain in North Carolina. His family would take a trip each season together when he was growing up to Breckenridge, Colorado. An early memory of skiing is at Sugar Mountain in North Carolina learning how to throw helicopters with the legendary Glen Plake.
Greg was a member of the soccer and wrestling teams while in high school at Soddy Daisy High School in Tennessee. He then graduated from North Carolina State University (Raleigh, NC) with a BA in Communications and Public Relations while a member of ROTC. He went on to be a member of the US Army serving in active duty for five years with one deployment.
He has been teaching skiing at Lionshead for five seasons and has worked with the DEVO program. Greg holds PSIA Alpine Level, PSIA Children's Specialist Level 1, and PSIA Freestyle Specialist Level 1 certifications. Greg wants to impart the importance of smart skiing and safely pushing skills boundaries to his athletes.
Max Pulsifer
Freeski Park & Pipe Coach
When Max was just 2 years old, his parents strapped him in a backpack and took him to the snow-covered mountains - he loved it. Shortly after, he retired from the backpack days and found his love for skiing among his high school extracurriculars, football and lacrosse. Max attended the University of Maine at Farmington where he studied Elementary Education.
After graduation, he was able to combine his passion for teaching and coaching. He has been ski coaching here in Colorado for 4 seasons after he taught Middle School in Maine. Max has an Elementary Education K-8 teaching certificate as well as a PSIA Alpine 1, PSIA Freestyle 1, and USASA Level 200 ski certifications. He is looking forward to bringing positivity to both athletes and co-workers to push his peers to their full potential on and off the mountain.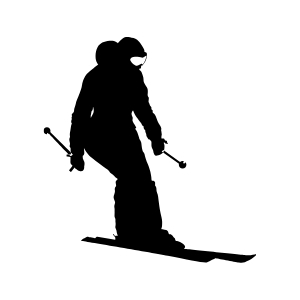 George Sandy
Freeride Middle School Coach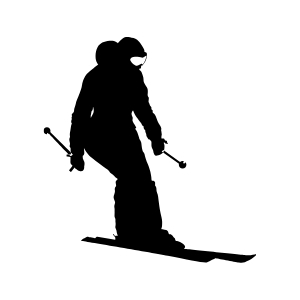 George Sandy
Freeride Middle School Coach
Hometown - Richmond VA
At age two, George fell in love with skiing when his dad first taught him to ski. He started out as a race athlete at Wintergreen Resort (Wintergreen, VA) with his dad as one of his first coaches. During his stint as an alpine athlete he made the regional team for the south.
George attended Douglas Southall Freeman High School (Richmond, VA), and during this time he rode bikes and played various sports. The only sport he was ever serious about was skiing.
After graduating from high school, George started coaching the race team he grew up on, focusing on the U14 athletes mainly, but also helping out with other athletes and the NASTAR program. After three years of coaching he found a passion for coaching freestyle athletes.
Soon, he moved to Vail, CO landing a job teaching skiing. After seven years of teaching skiing he is excited to be given the opportunity to work with SSCV athletes.George wants to impart his love of skiing and passion for the mountains to his athletes, while also teaching strong fundamentals and how his athletes can safely push their limits.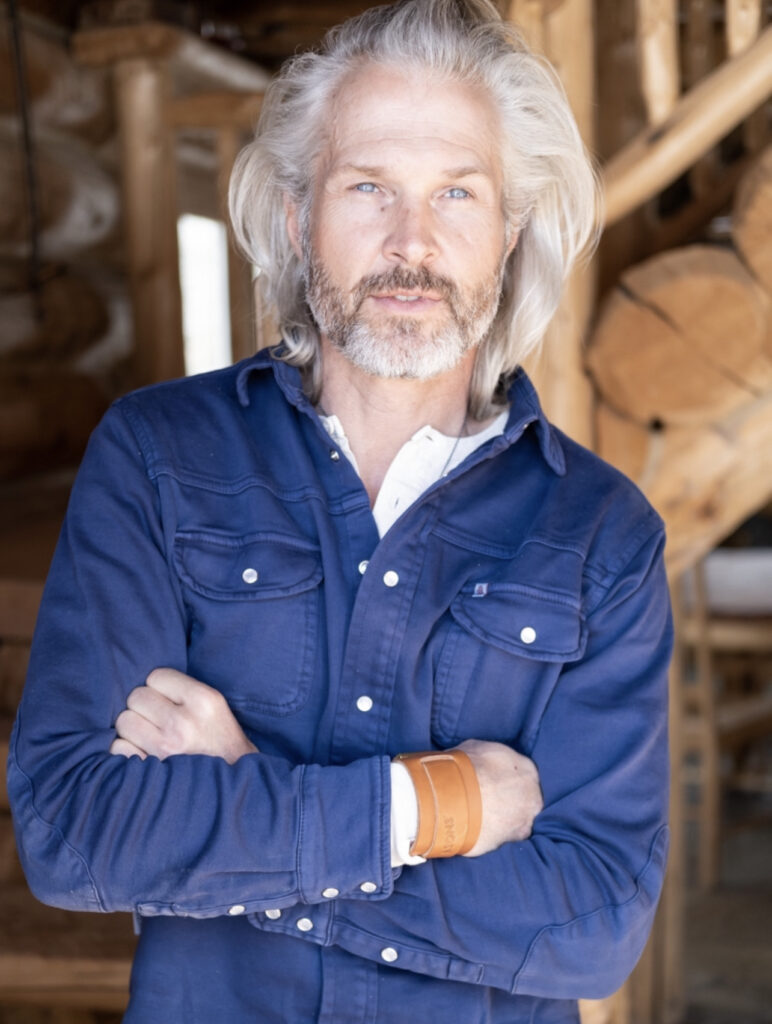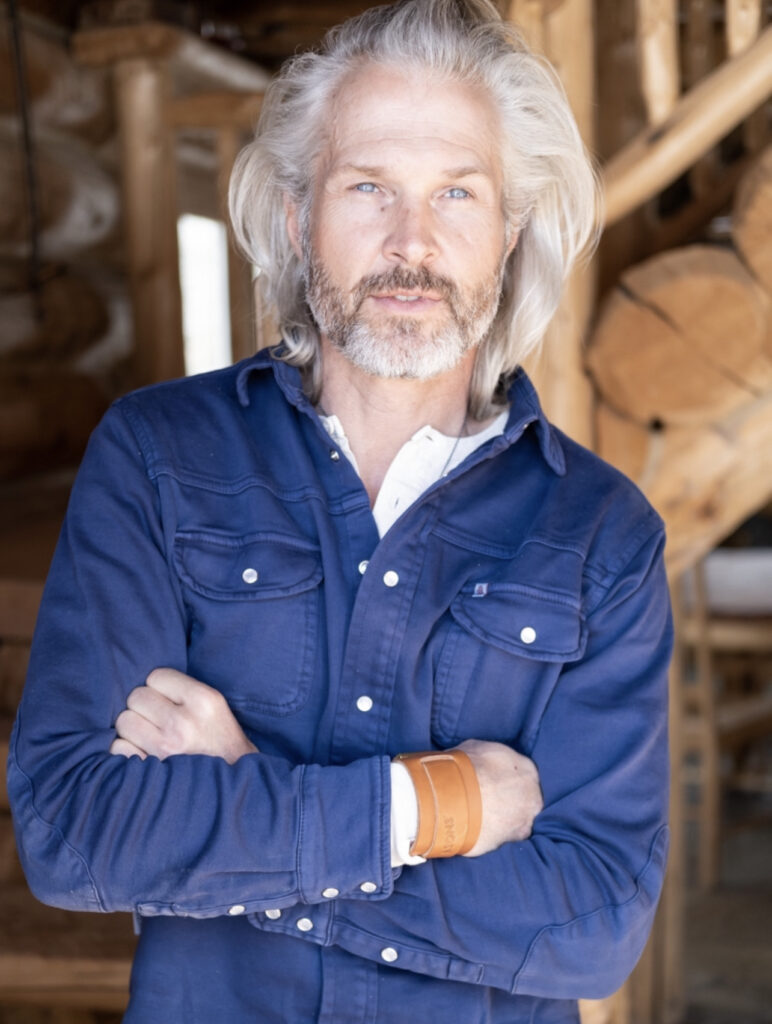 Eric Wagenknecht
Freeski Rookie Team Coach
Hometown - Eagle, CO
Eric's first moments on skis were in a backpack as his dad skied and he napped. In 1976 he got his first taste of freedom lapping chair 12 on his own skis.
Eric went on to graduate from Colorado College with a degree in Political Economy. During his college years he stayed active by climbing, skiing, and running. These remain some of Eric's favorite things to do.
He joined IFSA in its first year and has competed and coached for many years since. Eric wants to teach athletes that their love for skiing is part science and part art by teaching them new ways to see the hill and choose creative lines that match their style without being limited by what they see from other skiers. Skiing is a way to express themselves and he wants athletes to explore that. Eric also wants to impart to his athletes that honing their craft is a life's work - to be patient, and meet themselves where they are, and work from there.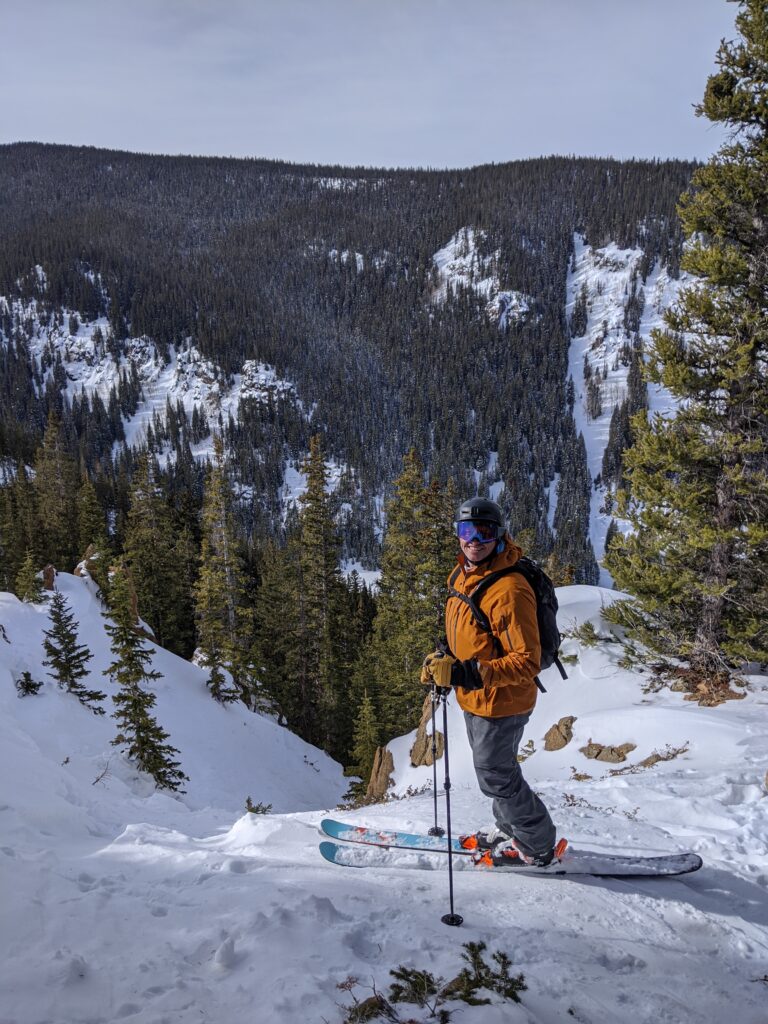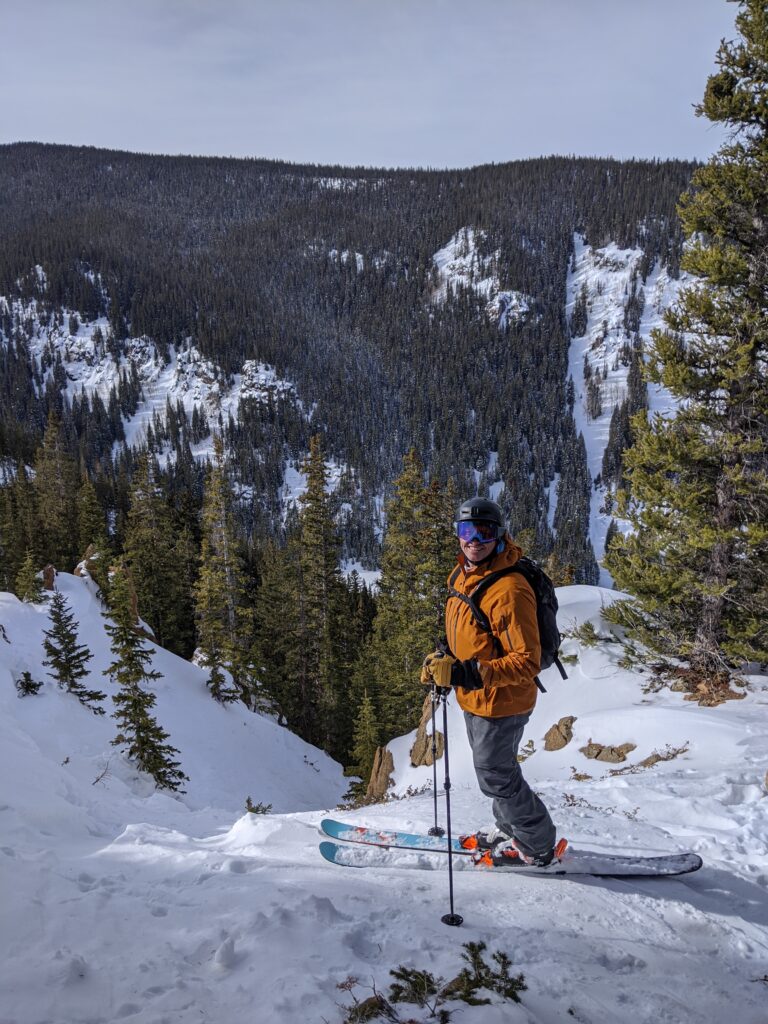 Brent Wambach
Freeride Substitute Coach
Brent started skiing in the Poconos and Vermont with his dad who fell in love with the sport from his time working in Massachusetts. When Brent was 16, he took a family ski trip to Vail and decided he was going to move to Colorado for college. Brent began skiing competitively when he joined the CU Freestyle Ski Team, he later switched to freeride skiing while living in Summit County, and spent most of his days off at Arapahoe Basin and the surrounding backcountry. Brent competed in early freeride comps at Berthoud Pass, and also spent a fair amount of time in the park in the 90's starting when the signs at Breck said the features were only for snowboarders. Brent quickly became good friends with the local pro snowboarders (including the PinPin Film crew) and learned a different approach to freeride following them around the mountain. Brent went to Penncrest High School Media in Pennsylvania and went to CU Boulder and skied on the CU Freestyle Ski Team, mogul specialist, and got a B.A. in Kinesiology (Sport Science).
Brent's accolades in the snowsport world continue, including beginning his career in snow sports in 1998 as a ski patroller at Keystone, CO. He was an Avalanche Route Leader, Cat Guide, Ski and Toboggan Instructor, and Lift Evacuation Team Member and Instructor, with certifications from NSP, Avalanche Level 2, and State of Colorado Blaster Permit Holder while on Ski Patrol. Brent is also currently a PSIA certified ski instructor at Vail Ski School. Brent loves to help continue the progress of the athletes while their normal coaches are off due to illness or vacation, and most looks forward to seeing smiles on kids' faces when they are having fun or mastered a new skill. Brent is most proud of the work he's done mentoring others in my different jobs and helping people land their dream jobs or promotions. When Brent teaches leadership, he defines it as helping others become the best version of themselves – he believes coaching to be very similar to that definition.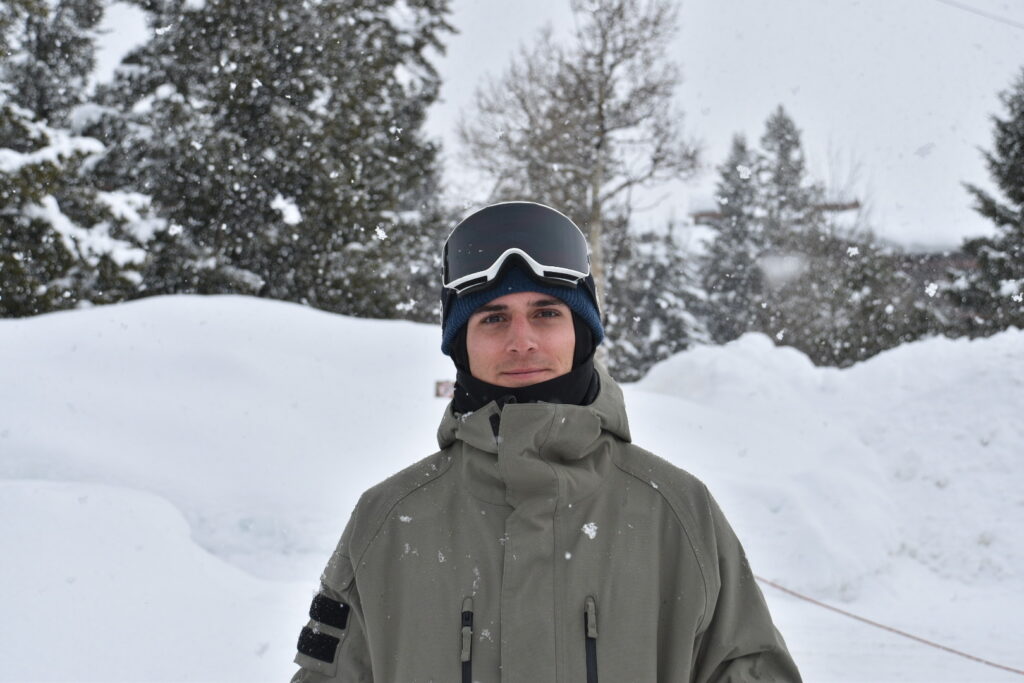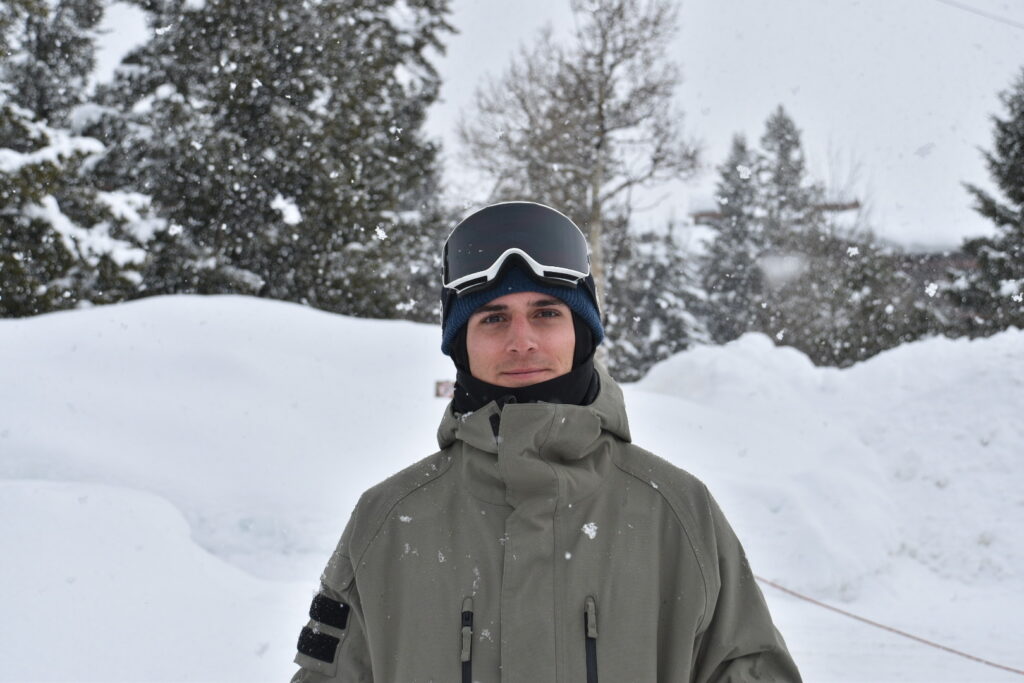 Andy Weber
Snowboard & Freeski Strength & Conditioning Coach and Snowboard Park & Pipe Coach
Andy Weber went snowboarding for the first time on Sugar Mountain, North Carolina, with a group of his middle school peers. After a rough first ride, he tried again years later and filled his favorite high school memories snowboarding with his buddies. He grew up riding in the sun by day and under the lights by night.
Andy graduated from the University of Tennessee in 2015, where he received a degree in kinesiology. Following graduation he moved to Copper Mountain, where he worked as a Woodward Coach. His journey to Colorado led him to Ski and Snowboard Club Vail in March of 2019. Even though being a snowboard coach is not the job from his childhood dreams, he believes he has his dream job. He shares the sport that he loves with some of the "raddest" kids he has ever met.
His goal has always been to mold athletes into great snowboarders, but use the sport to cultivate a program that molds his kids into greater people. Andy holds a AASI Level 1 certification and a USASA Level 200 certification.
Hunter Whiting
Freeski Rookie Team Coach
Hunter found his passion for skiing in the Alps when his family was living in Europe. He began ski racing at Cardigan Mountain School in New Hampshire, and later transitioned to Freestyle and Freeride reams at Gould Academy in Maine.
Hunter is actively pursuing his Alpine Cert 2 and FS-3, and has been working on his individual skills simultaneously. He recently received an achievement award from the Colorado National Guard for excellence as a military trainer. Hunter is looking forward to sharing his wide breadth of knowledge with his athletes.
He is excited to continue watching his teams' skills, knowledge, passion, and comfort zone grow throughout the season. He places an emphasis on identifying his athlete's personal comfort level, and specifically tailoring his coaching to the individual in order to help them optimize their maximum potential. Hunter will be working on improving dynamics both individually and as a team, and they become more efficient and technical in all their skill sets.
Peter Woitas
Freeski Rookie Team Coach
Peter Woitas
Freeski Rookie Team Coach
Hometown: Mankato MN
Peter's passion for skiing started at Mt. Kato, the local 240 foot hill. He would go once or twice a year but when he got his first pair of skis he I was there every chance he could get.
He graduated from Minnesota State Mankato in 2010 with a degree in Park and Recreation and a minor in Studio Arts
He started in snow sports education in college where a professor got him volunteering as an adaptive helper and he was hooked. Peter found there wasn't anything more rewarding in the world than helping a blind skier make it down the mountain or hearing joyous screams coming from a sit ski with a normally non-verbal guest as he tethered behind.
After college he applied for an instructor position at Beaver Creek and landed in the kids department and is still a children's instructor and has grown a lot in his knowledge over the past 10 years. He has both level 2 Children's and Freestyle accreditations though PSIA as well as a Cert 2 overall. He continues to work towards his PSIA level 3 and has passed one portion of that process thus far.
Peter took a coaching position at Mt. Buller in Australia where he spent 2 "never summer" seasons down under working with their freestyle development team known as TBR (Team Buller Riders). HeI learned a great deal and will never forget the influx of knowledge from all around the world packed into one modest, yet amazing mountain.Peter would really love every child he works with to be the best at what they do and to make them better skiers than he will ever be. He strives to instill a sense of ownership and awareness of skill in his students so they can feel confident and have fun no matter what terrain they are on, even the greens. He is always looking forward to sharing his passion and helping young skiers develop into not just good skiers but hopefully good people with their own passion for the sport.
He is proud of his steady and unbreakable stubbornness to achieve his goals. Over the past 10 years hes has completed the Triple Crown of hiking (AT, PCT, and CDT) and paddled the entire length of the Mississippi River in a canoe. He has learned, truly and deeply, that the journey of a million steps starts by putting one foot in front of the other and that we don't have to journey alone. He hopes to help the athletes he works to take a few of those steps and to help them see what they are capable of.