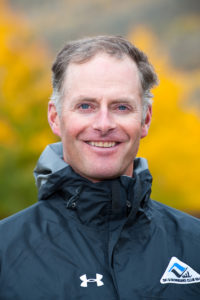 In a letter from U.S. Ski & Snowboard President & CEO Tiger Shaw, SSCV's Mogul Program Director John Dowling was notified this week that he has been selected to receive the 2018 U.S. Ski & Snowboard Freestyle Domestic Coach of the Year Award.
The letter reads as follows:
The 2018 U.S. Freestyle domestic coach of the year goes to a staple in the freestyle community with an unwavering commitment to the sport: John Dowling. Throughout his career he has coached numerous athletes who have moved onto World Cup and Olympic success. In recent years, he has focused his attention to the most important job in sport, teaching the younger generation the skills they need to succeed.
Because of his commitment to the next generation, Ski and Snowboard Club Vail is a hotbed for up and coming mogul skiers. Young talents such as Emily Szabo, Kai Owens, and Tegan Large are all on a fundamentally sound path to the peaks of mogul skiing success, thanks to John Dowling.
John Dowling has undoubtedly made a tangible contribution to our sport for many years, and for that we at US Ski and Snowboard would like to thank him by presenting him with the Domestic Coach of the year award.
Dowling's award will be presented during the U.S. Ski & Snowboard Congress 2018 at our Chairman's Awards Dinner on May 3.
Ski & Snowboard Club Vail congratulates Dowling on this well-deserved distinction.
Freestyle Domestic Coach of Year Past Recipients
1998 Wayne Hilterbrand
1999 Raymond de Vre
2000 Bobby Aldighieri
2001 Duke Peterson
2002 Nick Preston
2003 Matthew Gnoza
2004 Steve Kenney (posthumously)
2005 Bruce Erickson
2006 Glenn Eddy
2007 Caleb Martin
2008 Elana Chase
2009 Chris "Seedog" Seemann
2010 Deb Newson
2011 Chris "Hatch" Haslock
2012 Jere Crawford
2013 Wes Preston
2014 Dan Studer
2015 John Kroetz
2016 Nori Pepe
2017 Kate Blamey
2018 John Dowling