SSCV Winter Tutorial (WT) Overview
SSCV's Winter Tutorial enables student-athletes who are unable to relocate to the Vail Valley year-round to pursue full-time training during the snow sports season alongside their academics. WT is a tuition-based program operating from early November through late April tailored to the individual needs of its students.
Winter Tutorial follows the curriculum of the student-athlete's school of origin or online course provider, providing one on one tutoring in the core subjects of math, science, social studies and language arts. It offers maximum flexibility based on how involved the school of origin or online course provider would like to be during their student's time at Winter Tutorial.
The overarching goal of Winter Tutorial is to have each student-athlete transition seamlessly back into their home town school of origin academics (or online classes without the support of Winter Tutorial tutors) and have a strong finish to their academic year, honing their academic, communication and executive functioning skills, achieving personal academic and athletic goals and displaying character, courage and commitment along the way in a supportive, caring community-based cross-age environment.
Winter Tutorial takes place at Vail Ski & Snowboard Academy (VSSA) just 10 miles from SSCV's Golden Peak base area and Clubhouse and adjacent to SSCV's Nordic training area at Maloit Park and dryland facility at the Minturn Fitness Center.
MISSION
The mission of Winter Tutorial is to provide quality educational opportunities that promote student success, while remaining flexible for students' athletic needs. To deliver a curriculum that not only meets the school of origin's or online provider's requirements but also challenges students to excel, improve and apply their knowledge.
Academics
WT support is offered in English, Social Studies, Science and Mathematics. WT utilizes one-on-one tutoring. WT's success relies upon a cooperative educational effort among WT tutors, parents, students and the school of origin or online provider. Any specific learning targets or standardized tests required by the school of origin or online provider should be addressed prior to the student's arrival.
History
Winter Tutorial was established in 1992 to reinforce the mission of Ski & Snowboard Club Vail. WT provides a setting where both athletics and academics may be pursued for student athletes who are not in the Vail Valley for the entire academic year. Students must come to WT committed to assuming full responsibility for their experience. Students are responsible for obtaining completed teacher and parent questionnaires and an extra copy of each textbook and novel from their school of origin or online provider at least two months prior to the start of WT and also for communicating their competition schedule to their tutors and the Director of Academics & Admissions in advance throughout the season. WT is a component of SSCV and overseen by the SSCV Director of Academics & Admissions.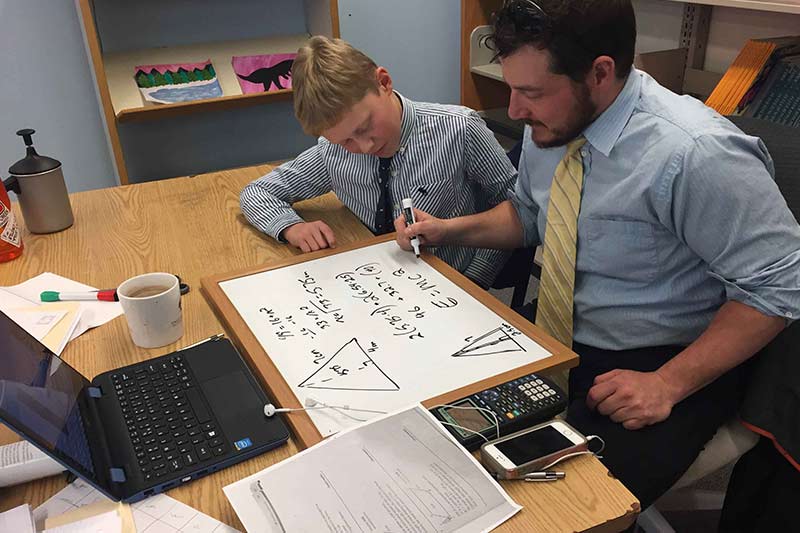 Tuition
Winter Tutorial is a tuition based program. WT tuition is in addition to the cost of the SSCV full-time program that the athlete is participating in. For WT tuition costs please contact SSCV Director of Academics & Admissions Sharon Schmidt
2019-2020 WT Schedule
For the 2019-2020 season Winter Tutorial starts on November 4, 2019 and ends on April 17, 2020 with a Thanksgiving, Christmas holiday and February break.
The WT daily academic schedule is a follows:
Mondays 9:20 am – 3:40 pm
Tuesday-Friday 1:15 pm – 4:55 pm during Winter A Schedule (November 4 – March 24) and noon – 3:40 pm during Winter B Schedule (March 25 – April 17)
Athletics
SSCV Financial Aid
SSCV believes that no one should be restricted from participating in SSCV programs for financial reasons. Financial aid is available from SSCV to support up to 75% of SSCV athletic program fees. Click here for details, including the financial aid application process and related deadlines. Financial aid is not available for WT tuition.
Training Table
The lunch program offered to WT students provides our young and developing student-athletes with the opportunity to get a balanced meal after long mornings of hard training on the mountain and throughout the entire Winter Tutorial term. Proper nutrition not only begins the rebuilding process of muscles, but also replenishes energy stores and provides fuel for the brain to excel through the academic part of the day. Food is provided by a professional chef at a reasonable cost.
SSCV Winter Tutorial Staff
Please click here to view the current SSCV Academic Staff Directory which includes SSCV WT staff.
Parent & Athlete Testimonials
"Partnership and communication between the athlete's primary school of origin, the SSCV Winter Tutorial staff, the athlete, and their parents is very important.  Early planning and shared objectives for a positive learning environment made the experience a productive and successful one for our daughter.  Being an athlete at SSCV and a Winter Tutorial student really raised the expectations for her, and she rose to the occasion.  Our daughter was able to train and compete the entire season and complete her studies effectively.  This allowed her to understand and trust that what she was learning in Vail was what her teachers and fellow students were working on back home. As a result, she developed the focus and confidence to return to her school of origin right on track."
-Parent of an SSCV Winter Tutorial alpine athlete
"[Winter Tutorial] helped me to accomplish school tasks during the busiest part of my ski racing season, something my public school could not do. The teachers were involved and paced classes according to my busy schedule. Not only does Vail Valley (Tutorial) Academy [now Winter Tutorial] adjust to help student individually, it gives us, the students, a sense of responsibility and self-motivation."
-Sarah Schleper, former U.S. Ski Team Member
"I would like to state my unconditional support of [Winter Tutorial]. My daughter, Lindsey, attended the Academy [now Winter Tutorial] for three years and despite her intense racing and training schedule, managed to stay with or ahead of her class when she returned to school after winter term. I attribute this to the Academy [now Winter Tutorial] staff, who were always available to provide Lindsey with one-on-one teaching and assistance when necessary to help her understand the information she may have missed. This support, in spite of the physical and academic challenges her racing lifestyle put in her path, enabled Lindsey to remain the centered and well-rounded person she is."
-Linda Kildow, mother of Lindsey Vonn, U.S. Ski Team Member