More than 100 friends of the club gathered at the Four Seasons in Vail for the biannual alumni reunion and Hall of Fame & Wall of Excellence induction ceremony on Sunday.
SSCV inducted former World Cup mogul skier and Olympic bronze medalist Toby Dawson into its Hall of Fame as an athlete. He was joined by Mauri Nottingham, who was inducted into the hall as a ski club leader.
The Wall of Excellence was filled by Mike Brown, Karen Lancaster Ghent, Erik Steinberg and David Viele as athletes. Terresa Herbst and Ted Martin were inducted as leaders.
Mauri Nottingham
Maurice "Mauri" Nottingham was born in Avon on the Nottingham Ranch in 1930. Nancy and Mauri met at University of Colorado Boulder and were married in 1956. In 1968, they became well known in Vail as owners of the Talisman Lodge, near the International Bridge, where One Willow Place is located now.
Mauri was very active as a gatekeeper and FIS-certified starter for NorAm and World Cup ski races. By the 1989 World Championships, he was lead gatekeeper for the event.
His involvement with SSCV predates the clubhouse. In an era before personal computers, Mauri developed and coded a computerized inventory system — the first of its kind — for the Vail Ski Swap and later developed a bar code and tagging system that helped make the Swap into the smooth-running annual success and fundraiser it is today. He also helped modernize and computerize the club's timing systems, back when that type of technology was cutting-edge in the world of ski racing.
Toby Dawson
Lost as a boy in a Korean market, Toby Dawson was orphaned and raised by his ski-instructor parents in Vail, where he discovered mogul skiing as an enrolled student-athlete with Ski Club Vail.
Toby was selected to the U.S. Ski Team at 19, finishing fifth in his World Cup debut in 1999 and securing his first win in 2001. He improved again in 2004, with three World Cup victories, seven podiums and finished second in the World Cup standings.
"Awesome Dawson" reached the pinnacle of his career earning gold in the duals at the 2005 World Championships and picked up Olympic bronze a year later. Today, Tobey is a recognized global leader in the sport, introducing his birth nation to mogul skiing and serving a key role on the bid committee for the 2018 Olympics in PyeongChang.
Karen Lancaster Ghent
Karen Lancaster Ghent arrived in Colorado in 1977 as a 17-year-old ski racer from Incline Village, Nevada and continued her racing career as a member of SSCV. After her time at the club, Karen went on to race as a tech specialist on the U.S. Ski Team from 1980-1985, representing the team on the World Cup and at World Championships. In 1892, she was a member and point-scorer for first and only U. S. alpine ski team to win the Nations Cup title.
As her U.S. Ski Team career was coming to an end, Karen's career in ski racing was far from over. She went on to become a USSA Level 400-certified coach and a FIS technical delegate. In 2009, Karen was recognized by the USSA as Alpine Coach of the Year, becoming only the second woman ever to have received this award, and led SSCV to earn USSA Alpine Club of the Year recognition in 2014, 2015 and 2016.
Eric Steinberg
Eric Steinberg moved to Vail in 1964 when his father, Tom, was recruited to become the town's first doctor. Growing up at the foot of Vail Mountain, he became a member of Ski Club Vail and ultimately a Rocky Mountain junior downhill champion. He went on to compete at the University of Colorado, where he was part of four NCAA national championship teams and was named First Team All-American in 1974.
After two seasons racing in the first seed of the Europa Cup and narrowly missing an Olympic bid in 1976, Steinberg was hired by the U.S. Ski Team in 1979 as a men's downhill coach and helped the storied Bill Johnson win Olympic Gold in 1984.
Steinberg oversaw the making of U.S. ski racing history as the head coach of the women's team that produced a World Cup downhill win by Pam Fletcher in Vail. In total, he has coached 41 national champions.
From 1988-1993, Steinberg served as the Executive Director of Ski Club Vail before relocating to Steamboat Springs where he headed up the Billy Kidd Performance Center. In 2014, he returned to his Vail roots, spreading his vast knowledge of the sport as a coach for SSCV's Get in the Gates and ski cross programs.
Mike Brown
Growing up skiing wooden skis on Meadow Mountain, Mike Brown came a long way in his career. He raced at Ski Club Vail and went on to achieve a 10-year career on the U.S. Ski Team, capturing six top-15 World Cup results and landing a top-100 FIS world ranking.
Brown was eagerly anticipating the 1989 World Championships in Vail, but that December, he herniated two discs lifting weights and was forced to undergo back surgery two weeks before the championships. Coaches held him out of the downhill at worlds but allowed him to race in the super G. With the nerves in his left leg impaired, he finished 47th.
After retiring, Brown launched a seven-year career as coach of the U.S. Disabled Ski Team, guiding the squad to its status as the strongest disabled team in the world. Brown coached two of the most decorated Paralympic athletes in history: Chris Waddell and Sarah Will.
David Viele
A homegrown kid, David Viele grew up in the Vail Valley and joined Ski Club Vail in 1983. His two sisters also skied with SSCV, and his father was a member of the board of trustees for many years.
A member of the U.S. Ski Team from 1993-1997, Viele went on to serve as a two-year captain on the Dartmouth College Ski Team, where he won back-to-back NCAA titles in giant slalom (1998-99).
After retiring from ski racing in 2000, Viele completed his education and returned to Vail in 2002 to run the family construction and development business. David is married to his wife, Rachel, and has a son, Wyatt and daughter, Kathleen. He and his family continue to be strong supporters of the club.
Terresa Herbst
Terresa Herbst was the founding academic director at the Vail Valley Academy, which was established in 1993 as an academic partner, reinforcing the mission of Ski & Snowboard Club Vail. The school later transformed into the Vail Tutorial Academy, setting the framework for SSCV's current Winter Tutorial program and Vail Ski & Snowboard Academy, which enable student-athletes to compete at a high level while staying up on their schoolwork.
Today, Ski & Snowboard Club Vail awards the Terresa Herbst Leader in Education Award to the most outstanding teacher of the year among our academic partners.
Herbst continues to be deeply involved with the club as a USSA official, working and volunteering as chief of timing and calculations, which helps ensure fair, smooth-running races at Vail and Beaver Creek.
Thanks to her many contributions and innovations in the area of academic support for snowsport athletes, Herbst has helped countless athletes achieve their dreams on and off the hill. Today, Herbst continues her work in education as a math teacher Colorado Mountain College.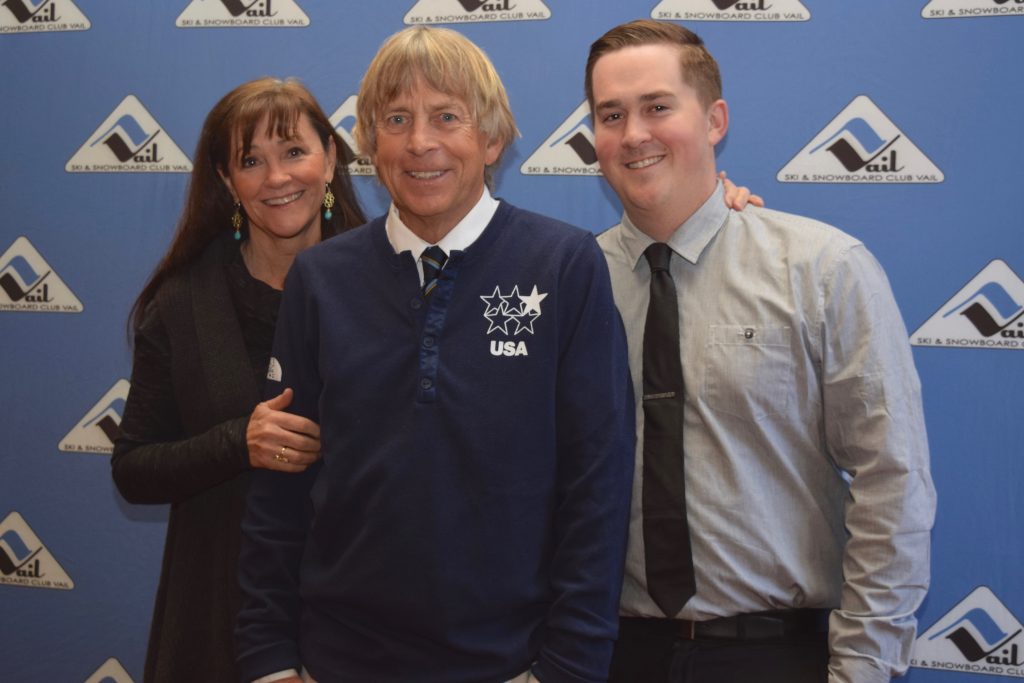 Ted Martin
Ski & Snowboard Club is literally the house that Ted Martin built. Martin began his career with Ski Club Vail as an age class coach circa 1973, coaching some of the most notable young racers of that time.
One summer, Martin, along with a couple other coaches, physically built the current SSCV clubhouse at Golden Peak. Say what you want about the clubhouse, it's certainly stood the test of time.
Martin remains impressed that the clubhouse is in such good shape because, as he put it, he and his colleague weren't really carpenters at the time. If and when a new clubhouse gets final approval, Martin says he'd like to take the first swing at its current iteration.
Martin moved on from age class coaching and ran the masters' program, which laid the foundation for a flourishing senior race culture in Vail. In the mid-70s, he also formed and operated the employee races and town championship, early iterations of the long-standing Town Series. Much like today, the Town Championship featured a robust after-party. Prizes included no less than a Chevy Impala convertible.