Bolle Age Class Series Comes to Beaver Creek
Ski & Snowboard Club Vail racers and coaches gathered at the course in preparation for the Bolle Age Class Giant Slalom races hosted by the Club this past Saturday and Sunday on Bear Trap in Beaver Creek.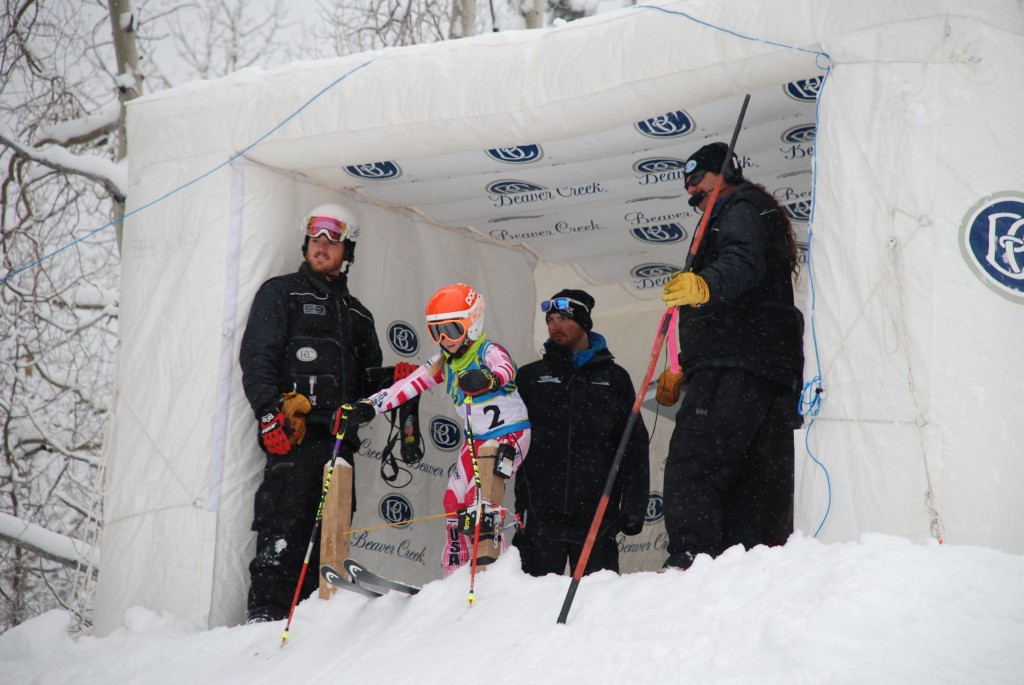 Over 180 boys and girls ages eight through thirteen gathered to compete in four single run United States Ski and Snowboard Association sanctioned Giant Slalom races hosted by Ski & Snowboard Club Vail in Beaver Creek last Saturday and Sunday.  Racer ready at the start of one of last Saturday's Giant Slalom races.
Vail, CO-January 10, 2016–Ski & Snowboard Club Vail (SSCV) hosted over eighty boys and over ninety-five girls in Beaver Creek for the Bolle Age Class Series Giant Slalom races on January 9th and 10th.  Bear Trap provided an exciting venue for these youngsters ages eight through thirteen to soar down a Giant Slalom course and demonstrate their skills in these United States Ski and Snowboard Association (USSA) sanctioned race.
SSCV Alpine Race Coordinator PJ Jenick commented on the venue, sharing "All of our staff have been hard at work setting up the course, which hosted two separate, single run Giant Slalom races each day.  Snow conditions were firm but not too hard, and we got some new snow during the event.  A big thanks to the Beaver Creek Race Crew, and resort for their great cooperation and grooming crew."
Four clubs in the Rocky Mountain Region of USSA-Crested Butte, Powderhorn, Flagstaff and Telluride-travelled to Beaver Creek to compete in last weekend's Age Class Series alongside SSCV athletes and a few visiting athletes from the USSA's Central Region.   For SSCV athletes and coaches, the venue's proximity to their home training ground in Vail added to the excitement, affordability and success of the event.
Alpine Head Coach for athletes ages twelve and thirteen, Terry DelliQuadri, discussed the eagerness of his athletes to compete on home turf stating, "It is always nice to have a home race where we sleep in our own beds and race on trails we are familiar with.  This was the first Giant Slalom race of the season and a great start to the racing year.  Our kids were so ready to race, having put in over 40 training days so far."
​"The event was exciting and the seeding format where athletes were grouped on the second day according to their results from the first day made for an interesting race,"  according to Alpine Program Director Karen Ghent.  "I was proud to see our kids putting it all out there and charging all four runs.  The work they have done so far this season is already paying off and it is especially gratifying to see big smiles on the kids' faces at the end of the day.​"
Breckenridge and Loveland also hosted Bolle Age Class Series events this past weekend for same aged athletes from other snowsports clubs throughout the Rocky Mountain Region.
Top three results for each race and all SSCV results are below.
Boys-Race No. 1, Jan. 9
1 Fletcher Holm SSCV
2 Nickco Palamaras SSCV
3 Cam Owens GTS
4 Kai McGuffin SSCV
5 Mackay Pattison SSCV
6 Joshua Telles SSCV
7 Samuel Packer SSCV
8 Nick Kirwood SSCV
9 Brooks Reed SSCV
10 Henry Strauch SSCV
11 Hunter Roach SSCV
12 Trey Kelsey SSCV
13 Dominick Epifanio SSCV
14 Brendan Archer SSCV
15 Will Bettenhausen SSCV
16 Tanner Grant SSCV
17 Sawyer Reed SSCV
18 Mack Dorf SSCV
19 Jakub Pecinka SSCV
21 Cole Pattison SSCV
22 Appollo Powell SSCV
23 Brady Malboeuf SSCV
24 Jackson Gayer SSCV
25 Hunter Salani SSCV
27 Andrew Conley SSCV
28 Tyler Webert SSCV
31 Cricket Byrne SSCV
32 Luke Arrigoni SSCV
33 Maxwell Larsen SSCV
35 Boet Van Den Berg SSCV
36 Spencer Peterson SSCV
38 Nicklas Eggebrecht SSCV
41 Boden Salani SSCV
42 Jackson Leever SSCV
43 Maddox Fitzgerald SSCV
45 Siebe Van Den Berg SSCV
48 Thomas Rodney SSCV
50 William Flaherty SSCV
52 Maverick Jaeger SSCV
53 Hunter Peterson SSCV
54 Tim Arrigoni SSCV
57 Cashton Jaeger SSCV
61 Rick Shay SSCV
62 Charlie Strauch SSCV
63 Lukas Jaerbyn SSCV
66 Alexander Goodman SSCV
70 Andrew Forstl SSCV
77 Ryan Warner SSCV
Boys-Race No. 2, Jan. 9
1 Fletcher Holm SSCV
2 Wyatt Hall SSCV
3 Kai McGuffin SSCV
4 Nickco Palamaras SSCV
5 Sven Barr SSCV
7 Nick Kirwood SSCV
8 Sebastian Kohlhofer SSCV
9 Joshua Telles SSCV
10 Samuel Packer SSCV
11 Brooks Reed SSCV
12 Henry Strauch SSCV
13 Tanner Grant SSCV
14 Samuel Bolton SSCV
15 Mackay Pattison SSCV
16 Trey Kelsey SSCV
17 Nick Ebner SSCV
18 Hunter Roach SSCV
19 Dominick Epifanio SSCV
20 Brendan Archer SSCV
21 Cole Pattison SSCV
22 Will Bettenhausen SSCV
23 Stewart Bruce SSCV
24 Appollo Powell SSCV
27 Hunter Salani SSCV
28 Sawyer Reed SSCV
29 Jakub Pecinka SSCV
30 Mack Dorf SSCV
31 Brady Malboeuf SSCV
33 Jackson Gayer SSCV
36 Maxwell Larsen SSCV
37 Luke Arrigoni SSCV
38 Cricket Byrne SSCV
40 Andrew Conley SSCV
43 Nicklas Eggebrecht SSCV
46 Tyler Webert SSCV
48 Spencer Peterson SSCV
50 Boet Van Den Berg SSCV
52 Thomas Rodney SSCV
53 Maverick Jaeger SSCV
54 Tim Arrigoni SSCV
56 Jackson Leever SSCV
57 Siebe Van Den Berg SSCV
59 Cashton Jaeger SSCV
62 Boden Salani SSCV
63 Hunter Peterson SSCV
64 William Flaherty SSCV
66 Charlie Strauch SSCV
68 Rick Shay SSCV
71 Lukas Jaerbyn SSCV
74 Andrew Forstl SSCV
76 Alexander Goodman SSCV
82 Ryan Warner SSCV
Girls-Race No. 1, Jan. 9
1 Gabriella Holm SSCV
2 Ava Jemison SSCV
3 Marley Chappel SSCV
4 Katie Bervy SSCV
6 Bayli McSpadden SSCV
7 Emma Resnick SSCV
8 Hailey Harsch SSCV
9 Emma Kate Burns SSCV
10 Sophia Lehmann SSCV
11 Kiki Lettovska SSCV
12 Taylor Hoyt SSCV
14 Kiana Brausch SSCV
15 Nancy Brown SSCV
16 Josephine Trueblood SSCV
16 Zoie Palmer SSCV
18 Emma Birtwhistle SSCV
19 Tianna Bruce SSCV
20 Alexandra Gonzalez SSCV
21 Kjersti Moritz SSCV
22 Audrey Schane SSCV
23 Kaitlin Keane SSCV
24 Mikayla Smyth SSCV
25 Wells Gillette SSCV
26 Liv Moritz SSCV
27 Alexa Anderson SSCV
28 Riza Pykkonen SSCV
30 Robin Pavelich SSCV
31 Madelyn Wehner SSCV
32 Samantha Lathram SSCV
33 Lexi Linafelter SSCV
34 Bella Shay SSCV
35 Lauren Haerter SSCV
36 Lavinia Stilli SSCV
37 Adalie Sullivan SSCV
38 Quinn Kelley SSCV
39 Elliot Dyroff SSCV
40 Annabel Dorf SSCV
41 Rachel Conley SSCV
42 Kamryn Brausch SSCV
43 Brooke-Lynne Allard SSCV
44 Grace Millett SSCV
45 Sydney Birtwhistle SSCV
46 Isabelle Ebner SSCV
47 Kyleena Lathram SSCV
48 Posie Millett SSCV
49 Shu Avery SSCV
50 Shen Geldbaugh SSCV
51 Viktoria Zaytseva SSCV
52 Avery Forstl SSCV
55 Isabella Gonzalez-Barot SSCV
57 Molly Roberts SSCV
59 Lauren Woolsey SSCV
60 Reese Harnick SSCV
61 Hailey Grant SSCV
63 Madison Allard SSCV
64 Dylan Wallis SSCV
65 Maizy Douglas SSCV
67 Keely Hendricks SSCV
70 Alexandra Valent SSCV
71 Katie McDonald SSCV
73 Katherine Bolton SSCV
74 Julia Olsen SSCV
75 Kai Thayer SSCV
76 Elizabeth Trombly SSCV
79 Grace Linafelter SSCV
81 Brynn Leonard SSCV
82 Solveig Moritz SSCV
83 Samara Hitt SSCV
89 Reese Malboeuf SSCV
Girls-Race No. 2, Jan. 9
1 Gabriella Holm SSCV
2 Berit Frischholz SSCV
3 Kendahl Roufa TEL
4 Katie Bervy SSCV
5 Josephine Trueblood SSCV
6 Ava Jemison SSCV
7 Marley Chappel SSCV
8 Bayli McSpadden SSCV
9 Zoie Palmer SSCV
10 Emma Resnick SSCV
11 Alexandra Gonzalez SSCV
12 Sophia Lehmann SSCV
13 Hailey Harsch SSCV
14 Emma Birtwhistle SSCV
15 Phoebe Heaydon SSCV
16 Kaitlin Keane SSCV
17 Riza Pykkonen SSCV
19 Emma Kate Burns SSCV
20 Taylor Hoyt SSCV
21 Tianna Bruce SSCV
22 Nancy Brown SSCV
23 Kjersti Moritz SSCV
24 Kiana Brausch SSCV
26 Liv Moritz SSCV
27 Wells Gillette SSCV
28 Samantha Lathram SSCV
29 Robin Pavelich SSCV
30 Mikayla Smyth SSCV
31 Lexi Linafelter SSCV
32 Madelyn Wehner SSCV
33 Adalie Sullivan SSCV
34 Lauren Haerter SSCV
36 Audrey Schane SSCV
37 Grace Millett SSCV
38 Brooke-Lynne Allard SSCV
39 Lavinia Stilli SSCV
40 Rachel Conley SSCV
41 Hailey Grant SSCV
42 Lauren Woolsey SSCV
43 Elliot Dyroff SSCV
44 Posie Millett SSCV
45 Kyleena Lathram SSCV
46 Viktoria Zaytseva SSCV
47 Elle Young SSCV
48 Isabelle Ebner SSCV
50 Avery Forstl SSCV
51 Madison Allard SSCV
52 Shu Avery SSCV
53 Shen Geldbaugh SSCV
53 Kamryn Brausch SSCV
55 Annabel Dorf SSCV
56 Quinn Kelley SSCV
58 Sydney Birtwhistle SSCV
60 Reese Harnick SSCV
61 Isabella Gonzalez-Barot SSCV
63 Molly Roberts SSCV
64 Keely Hendricks SSCV
65 Dylan Wallis SSCV
69 Kai Thayer SSCV
72 Elizabeth Trombly SSCV
74 Katherine Bolton SSCV
76 Julia Olsen SSCV
77 Maizy Douglas SSCV
78 Alexandra Valent SSCV
79 Samara Hitt SSCV
80 Brynn Leonard SSCV
83 Grace Linafelter SSCV
85 Reese Malboeuf SSCV
86 Solveig Moritz SSCV
Boys-Race No. 1, Jan. 10
1 Fletcher Holm SSCV
2 Nickco Palamaras SSCV
2 Wyatt Hall SSCV
5 Samuel Bolton SSCV
6 Mackay Pattison SSCV
7 Sven Barr SSCV
7 Sebastian Kohlhofer SSCV
9 Brooks Reed SSCV
10 Will Bettenhausen SSCV
11 Samuel Packer SSCV
12 Appollo Powell SSCV
13 Sawyer Reed SSCV
14 Dominick Epifanio SSCV
15 Trey Kelsey SSCV
16 Stewart Bruce SSCV
17 Cole Pattison SSCV
17 Hunter Salani SSCV
19 Jakub Pecinka SSCV
20 Brady Malboeuf SSCV
21 Jackson Gayer SSCV
22 Mack Dorf SSCV
23 Andrew Conley SSCV
26 Maxwell Larsen SSCV
27 Tyler Webert SSCV
30 Spencer Peterson SSCV
33 Boet Van Den Berg SSCV
34 Nicklas Eggebrecht SSCV
39 Patrick Keane SSCV
40 Cashton Jaeger SSCV
42 Siebe Van Den Berg SSCV
43 Maddox Fitzgerald SSCV
44 Jackson Leever SSCV
45 Thomas Rodney SSCV
47 William Flaherty SSCV
49 Tim Arrigoni SSCV
52 Hunter Peterson SSCV
54 Lukas Jaerbyn SSCV
59 Andrew Forstl SSCV
61 Alexander Goodman SSCV
67 Ryan Warner SSCV
Boys-Race No. 2, Jan. 10
1 Fletcher Holm SSCV
2 Wyatt Hall SSCV
3 Nickco Palamaras SSCV
4 Sven Barr SSCV
6 Kai McGuffin SSCV
7 Joshua Telles SSCV
8 Mackay Pattison SSCV
9 Sebastian Kohlhofer SSCV
10 Tanner Grant SSCV
11 Nick Kirwood SSCV
12 Samuel Packer SSCV
13 Samuel Bolton SSCV
14 Brooks Reed SSCV
15 Trey Kelsey SSCV
16 Nick Ebner SSCV
17 Hunter Roach SSCV
19 Jakub Pecinka SSCV
20 Will Bettenhausen SSCV
21 Brendan Archer SSCV
21 Mack Dorf SSCV
23 Hunter Salani SSCV
24 Appollo Powell SSCV
25 Stewart Bruce SSCV
26 Cole Pattison SSCV
27 Henry Strauch SSCV
28 Brady Malboeuf SSCV
29 Sawyer Reed SSCV
30 Andrew Conley SSCV
32 Spencer Peterson SSCV
33 Dominick Epifanio SSCV
34 Jackson Gayer SSCV
37 Luke Arrigoni SSCV
40 Tyler Webert SSCV
41 Maxwell Larsen SSCV
43 Boet Van Den Berg SSCV
48 Nicklas Eggebrecht SSCV
50 Patrick Keane SSCV
52 Jackson Leever SSCV
53 Siebe Van Den Berg SSCV
56 Thomas Rodney SSCV
57 Cashton Jaeger SSCV
58 William Flaherty SSCV
59 Maddox Fitzgerald SSCV
60 Hunter Peterson SSCV
62 Boden Salani SSCV
63 Tim Arrigoni SSCV
67 Charlie Strauch SSCV
69 Lukas Jaerbyn SSCV
72 Rick Shay SSCV
73 Andrew Forstl SSCV
80 Ryan Warner SSCV
80 Alexander Goodman SSCV
Girls-Race No. 1, Jan. 10
1 Hailey Harsch SSCV
2 Emma Resnick SSCV
3 Kendahl Roufa TEL
4 Bayli McSpadden SSCV
5 Sophia Lehmann SSCV
6 Taylor Hoyt SSCV
7 Nancy Brown SSCV
8 Katie Bervy SSCV
9 Kaitlin Keane SSCV
10 Audrey Schane SSCV
11 Kiki Lettovska SSCV
12 Josephine Trueblood SSCV
13 Alexandra Gonzalez SSCV
13 Zoie Palmer SSCV
15 Phoebe Heaydon SSCV
17 Robin Pavelich SSCV
18 Kiana Brausch SSCV
19 Tianna Bruce SSCV
20 Adalie Sullivan SSCV
22 Emily Creek SSCV
23 Riza Pykkonen SSCV
24 Mikayla Smyth SSCV
25 Samantha Lathram SSCV
26 Brooke-Lynne Allard SSCV
28 Kyleena Lathram SSCV
29 Wells Gillette SSCV
30 Madelyn Wehner SSCV
31 Lavinia Stilli SSCV
33 Shen Geldbaugh SSCV
34 Alexa Anderson SSCV
35 Lauren Haerter SSCV
36 Isabelle Ebner SSCV
37 Shu Avery SSCV
38 Posie Millett SSCV
39 Hailey Grant SSCV
40 Rachel Conley SSCV
41 Elliot Dyroff SSCV
42 Quinn Kelley SSCV
43 Avery Forstl SSCV
45 Lauren Woolsey SSCV
46 Annabel Dorf SSCV
47 Elle Young SSCV
48 Kamryn Brausch SSCV
49 Keely Hendricks SSCV
50 Sydney Birtwhistle SSCV
52 Isabella Gonzalez-Barot SSCV
53 Reese Harnick SSCV
54 Dylan Wallis SSCV
58 Molly Roberts SSCV
60 Katie McDonald SSCV
62 Elizabeth Trombly SSCV
64 Kai Thayer SSCV
66 Julia Olsen SSCV
67 Madison Allard SSCV
68 Grace Linafelter SSCV
69 Maizy Douglas SSCV
70 Alexandra Valent SSCV
71 Brynn Leonard SSCV
74 Samara Hitt SSCV
80 Reese Malboeuf SSCV
81 Solveig Moritz SSCV
Girls-Race No. 2, Jan. 10
1 Gabriella Holm SSCV
2 Katie Bervy SSCV
3 Berit Frischholz SSCV
4 Ava Jemison SSCV
5 Marley Chappel SSCV
6 Hailey Harsch SSCV
7 Bayli McSpadden SSCV
8 Emma Resnick SSCV
10 Josephine Trueblood SSCV
11 Sophia Lehmann SSCV
12 Alexandra Gonzalez SSCV
13 Kiana Brausch SSCV
14 Emma Kate Burns SSCV
15 Kiki Lettovska SSCV
16 Riza Pykkonen SSCV
17 Nancy Brown SSCV
18 Kaitlin Keane SSCV
19 Emma Birtwhistle SSCV
21 Zoie Palmer SSCV
22 Liv Moritz SSCV
23 Phoebe Heaydon SSCV
24 Adalie Sullivan SSCV
25 Audrey Schane SSCV
27 Taylor Hoyt SSCV
28 Robin Pavelich SSCV
29 Alexa Anderson SSCV
30 Wells Gillette SSCV
31 Samantha Lathram SSCV
32 Tianna Bruce SSCV
33 Madelyn Wehner SSCV
35 Mikayla Smyth SSCV
36 Lauren Haerter SSCV
37 Posie Millett SSCV
38 Emily Creek SSCV
39 Lavinia Stilli SSCV
40 Lexi Linafelter SSCV
41 Rachel Conley SSCV
42 Shen Geldbaugh SSCV
44 Lauren Woolsey SSCV
45 Shu Avery SSCV
46 Elle Young SSCV
48 Quinn Kelley SSCV
49 Brooke-Lynne Allard SSCV
50 Sydney Birtwhistle SSCV
51 Kamryn Brausch SSCV
54 Grace Millett SSCV
54 Hailey Grant SSCV
56 Isabella Gonzalez-Barot SSCV
57 Elliot Dyroff SSCV
58 Avery Forstl SSCV
59 Viktoria Zaytseva SSCV
62 Reese Harnick SSCV
63 Elizabeth Trombly SSCV
64 Madison Allard SSCV
65 Keely Hendricks SSCV
66 Katie McDonald SSCV
67 Molly Roberts SSCV
68 Kai Thayer SSCV
70 Maizy Douglas SSCV
72 Brynn Leonard SSCV
75 Grace Linafelter SSCV
76 Samara Hitt SSCV
77 Julia Olsen SSCV
80 Alexandra Valent SSCV
81 Katherine Bolton SSCV
87 Solveig Moritz SSCV
90 Reese Malboeuf SSCV